Koklyaev Returns to Strongman for Giants Live–Poland
The 2012 World's Strongest Man contest is drawing nearer and this weekend is the final chance to qualify via Giants–Live as the tour goes to Kartuzy, Poland.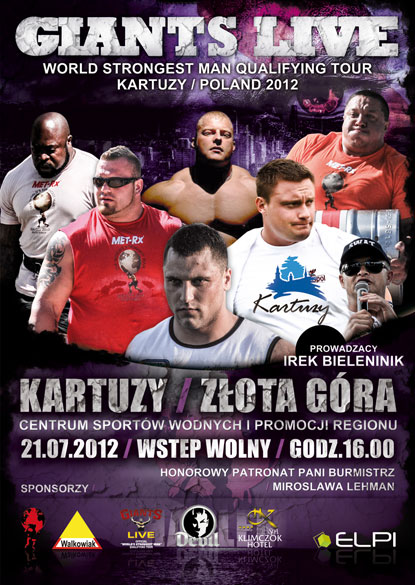 Giants Live—the official qualifying tour of the World's Strongest Man contest—is coming to Poland this weekend for its final contest before WSM 2012. IronMind® | Courtesy of Giants Live.


The lineup is an exciting blend of familiar faces along with new ones, veterans and relatively fresh faces:

Misha Koklyaev - Russia
Louise Phillipe Jean - Canada
Radzikowski - Poland
Jerry Pritchett - USA
Adam Scherr - USA
Mark Felix - UK
Darren Sadler - UK
Seb Kurek - Poland
Janusz Kulaga - Poland
Seb Davidsson - Sweden

"As you can see, Mark Felix and Darren Sadler from the UK are there," Giants Live director Colin Bryce told IronMind. "There has been talk about both of the veteran strongmen being injured and out for this season so for them it is a last roll of the dice to get to WSM one more time.

"Another great story is the return of Misha Koklyaev. Everyone knows the big Russian has the ability for true greatness but will he be back on form after 18 months of trying to make it onto the Russian Olympic weightlifting team?

"Then there is the story of Polish athletes in Poland. Nowhere in the world do athletes perform to their peak like a Pole in Poland. Will the top three qualifying spots to WSM be swallowed up by Polish athletes?

"One of the sub plots to the whole weekend that I am most looking forward to is seeing how Adam Scherr and the other debut internationalists get on.

"Scherr strode up to me at WSM 2011 and boomed 'I want to do one of those Giants Lives and make it to Worlds Strongest Man real soon.' As enormous and impressive looking as he is I had to take note. Following his big success at the Amateur Arnolds we decided it was time to see what he is all about. If he is half as great at lifting as he looks then we could have a new star on our hands.

"So with all these stories waiting to unfold I am pretty excited to get to Kartuzy (near Gdansk). I am working with Piotr Kwiatkowski of Harlem Strongman Federation. For more details please go to Giants-Live.com or for up to date tweets on whats happening while we are in Poland please feel free to follow us on @GiantsLiveWSM," Bryce said.


###

The IronMind Forum: discuss this article, talk strength, get help with your training.

You can also follow IronMind on Twitter.