Klokov Wins the 105s, Maintaining the Family Tradition
Doha, Qatar - Dmitry Klokov's father won the 1983 World Weightlifting Championships, and proving that he's a chip off the same block, Dmitry followed suit tonight.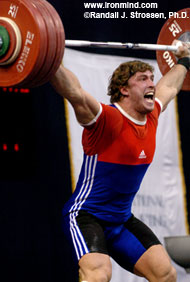 On the way up with the gold medal snatch, 192 kg, Dmitry Klokov lets off a little steam. IronMind® | Randall J. Strossen, Ph.D. photo.
Klokov opened with 186 kg in the snatch and, with an adjustment, made a good lift, followed by another good lift with 190 - he unleashed a roar before the lift, not a contrived made-for-TV act, but something primal. Another roar, another good lift, and the Russian lifter had 192 on the board and the gold medal in his pocket.

Moldavia's Alexandru Bratan was in for the silver: After hitting a good 185 on his first attempt, he had tried to move into the lead with 190 on his second attempt, but it was up and down, and no lift; he succeeded with the same weight on his third attempt to take the lead on body weight before Klokov roared and lifted his way past him.

Klokov made 222 on his first attempt in the clean and jerk, Bratan overtook him in the jerk with his second attempt, 223 kg, and Martin Tesovic (Slovakia), who had won the bronze medal in the snatch with 187-kg lift, made a nice 225-kg clean and jerk on his third attempt. Klokov worked hard and was very happy to make 227 on his second attempt, and now he could wait to see what happened.

Looking for the gold medal in the jerk, Robert Dolega (Poland) called for 227 kg on his third attempt, but he only deadlifted it. In a big surprise, on his second attempt, Ramunas Vysniauskas (Lithuania) took a shot at 228 for the gold medal in the jerk, got under the weight, but could not stand up. Bratan called for 229 on his third attempt, in an effort to move into first place in the jerk and the total, but only deadlifted it, and Vysniauskas took it, too, but it was a repeat of his second attempt - with the game won, Klokov passed on his third attempt.