Pyeongtaek, South Korea—The Korean weightlifting fans turned out in force to support their man today in the 94-kg category at the Asian Weightlifting Championships and while Kim Min-Jae left them smiling, it wasn't a slam dunk.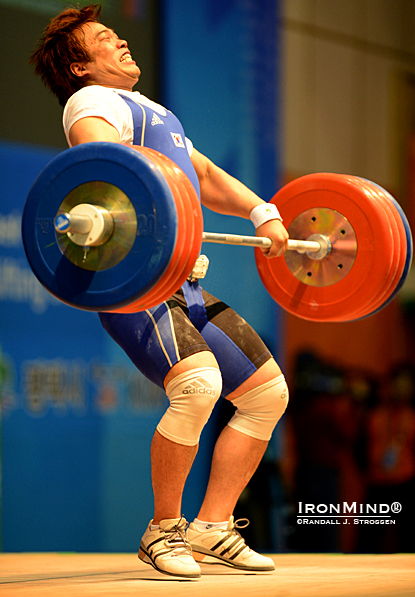 Kim Min-Jae pulls himself under 216 kg, in what turned out to be the gold medal lift for both the jerk and the total. IronMind® | Randall J. Strossen photo.



He Shuyong (China) and Kim Min-Jae looked to be the strong frontrunners in this class.

He Shuyong missed 170 on his opening snatch, came back to make it, and then Kim Min-Jae had his fans on the edges of their seats as he missed 175 kg not once, but twice. 

Adding to the tension, He Shuyong made a good lift with 175 kg on his third attempt and in another example of their terrific sportsmanship, the Korean crowd gave him a nice round of applause.

All eyes were on Kim Min-Jae when he came out for his third attempt and this time he hit the pocket, for a good lift—much to the delight of the crowd filling the competition hall.

He Shuyong was the lighter man and he opened first in the clean and jerk, hitting 200 kg, and then Kim Min-Jae followed with a good first attempt of 205 kg. The Chinese lifter was next with 210 kg to overtake the Korean lifter for the lead, but it was short lived as Kim Min-Jae replied with 211 kg on his second attempt.

He Shuyong had another shot at the lead—he took 215 on his third attempt, but after cleaning the weight and getting it overhead, he missed the jerk behind.

Although he'd already won the gold medal in the jerk and total, Kim Min-Jae called for 216 kg on his final attempt and while barely getting set for the jerk, he punched the bar overhead, hit a deep split, but couldn't quite fix the bar overhead.

###



Visit the IronMind Forum: talk strength, discuss this story. Strongman, grip, Highland Games, Olympic lifting, stones and more.

You can also follow IronMind on Twitter.