Ken Brown: Back in the Saddle
Ken Brown burst on the strongman scene with a dramatic debut at the 1997 US Strongest Man competition.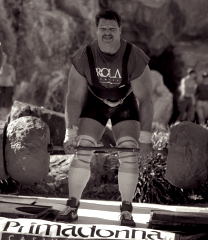 Ken Brown on the Flintstone Deadlift at the 1997 US Strongest Man competition (Primm, Nevada). IronMind® | Randall J. Strossen, Ph.D. photo.
Ken Brown had competed in strict curl contests, bench press contests, deadlift contests, and, as an impromptu thing, he didn't just close a No. 3 Captains of Crush® gripper, but he did it with an audible click - all that is well and good, but we remember him as the guy who tried to dent the back of the flatbed with his chin in the loading event at that '97 contest, then picked himself up and finished it off.

Ken went on to compete at the World's Strongest Man contest, broke the world record in the silver dollar deadlift and just now, at 40, he benched 600 pounds without a bench shirt. Ken is one of the few guys around who passes the Jamie Reeves standard of strength: bench 600+ and deadlift 800+.

Ken said that his knees are holding up just fine, as he works back into squatting, so maybe we'll be lucky enough to see him return to competition in 2005.

Flatbeds and silver dollar deadlifts: Beware.