Doha - Looking at the openers, nobody would have bet on either good number or a big battle in the 85-kg class at the Asian Games, but sometimes being wrong is good.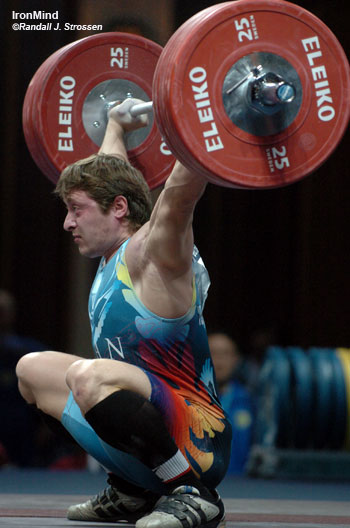 Hitting this 175-kg snatch on his third attempt put Vyacheslav Yershov on the road to gold in the 85-kg class at the Asian Games today. IronMind® | Randall J. Strossen, Ph.D. photo.

The snatches ended with Vyacheslav Yershov (Kazakhstan) leading with 175, followed by Lu Yong (China) who was in at 167, and then Kim Seon Jong (Korea) with 155. Of the leaders, Kim opened first in the clean and jerk with a good 186, and he went on to make 192 for his second attempt. Yershov put away 195 to get on the board with his first attempt, with Lu following him for a successful opener with the same weight, as well. Kim, in a bid to get the bronze medal, took 200 on his third attempt, and he made a good lift - this was a 9 kg jump over his second attempt, as an indication of his commitment. Both Yershov and Lu made 202 for their second attempts, and then the jockeying started: Lu was heavier and he was down 8 kg. After several changes, Lu came out to face 211, chasing the gold medal position - 9-kg jumps were getting popular. Lu got under the bar, but could not stand up - it was a great try, though, and a very nice ending to to the 85s, as Yershov passed on his third attempt. Yershov got the gold with 377, Yu the silver with 369, and Kim the bronze with 355.