Kasaeva Proves Yogi Right
Doha, Qatar - Proving that it's not over until it's over, Zarema Kasaeva (Russia) just needed one lift - the last lift of the competition - to overcome a bad start and end up at the top of the heap in the women's 69-kg category at the World Weightlifting Championships tonight.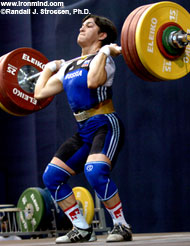 Zarema Kasaeva dips with 157 kg - the drive, the lockout, two gold medals and four world records followed. IronMind® | Randall J. Strossen, Ph.D. photo.

Could Kasaeva have gotten off to a shakier start? The junior star missed 118 twice in the snatch, while her top competition, Liu Haixia (China), sailed through good lifts at 110, 118 and 120 kg - picking up the gold medal in the snatch in the process. Kasaeva regrouped and made the 118 on her third attempt, good enough for the silver medal.

Liu didn't let up in the clean and jerk, as she hit 145, 150 and 154 - a perfect day and the last lift was a world record in the jerk and in the total, so she had just picked up two more gold medals, right?

Kasaeva, who had already hit 145 and 153, called for 157 kg on her third attempt - it was the last lift of the class and besides being good enough to give her the junior and senior world records in the jerk and the total, it would also give her both of those gold medals as well. All she had to do was lift it, and she did just that, lighting the competition hall on fire with a tremendous ending to a great class.