Kasabiev: King of the 94s
Busan, Korea - Looking at the start list, the 94-kg category at the Junior World Weightlifting Championships, several guys appeared capable of winning - one of the duels was expected to be between Andrey Demanov (Russia) and Arsen Kasabiev (Georgia), and that's just how things started.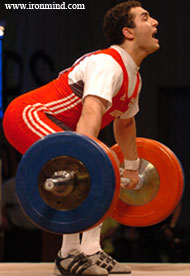 Arsen Kasabiev (Georgia) starts 165 kg on it journey to arms' length overhead - this was his second snatch. IronMind® | Randall J. Strossen, Ph.D. photo.
In the snatch, Kasabiev took 160 kg for his opener, and made a smooth lift; Demanov responded with 161 for his first attempt. Kasabiev moved to 165 for his second attempt and had to make quite an adjustment in the bottom to save the lift, which he did; Demanov followed with 166 (notice the pattern?), for another success.

For his third attempt, Kasabiev took 167 and made a very nice lift, so, as you guessed, Demanov, who was heavier, took 168, for a successful lift and the gold medal in the snatch. Roman Russyanovskiy (Kazakhstan) edged out Eduardo Guadamud (Ecuador) on body weight for the bronze medal in the snatch with 162 kg.

If we mentioned that Kasabiev opened with a good 203-kg clean and jerk, what do think Demanov did? He opened with 204 (right?), only he missed the jerk and that's when the battlefield suddenly tilted.

Demanov elected to go up, so Nikolads Kourtidis (Greece) followed with a very workmanlike success with 205 kg. Things were about to get worse for Demanov, because he missed the jerk on 205 not once, but twice. Kasabiev already had won the gold medal in the total, but he must have also wanted the gold medal in the jerk, because he took 208 for a good lift on his second attempt.

Not content to stop at this point, Kasabiev called for 217 on his third attempt and while he racked the weight, he couldn't stand up with it.

Russyanovskiy continued to turn small differences into big differences, winning the bronze in the clean and jerk on body weight and the bronze in the total by one kg.