Kansas City Renaissance Festival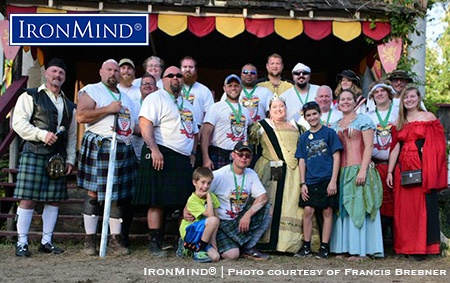 Jousting, costumes, Highland Games events, a stone carry, a spear throw and a sword hold—all part of the Kansas City Renaissance Festival.


Kansas City Renaissance Festival 2015
by Francis Brebner

International Federation of Highland Games (IHGF)
 
It was a great weekend at the Kansas City Renaissance Festival, where the crowds packed the bleachers surrounding the arena for an amazing show of jousting and the Highland games. 

It was a complementary venue for both events, with the Highland games doing an appearance for a few events and then jousting for an hour and on throughout the day. Several classes, including novice, masters, women, and amateur, took part in both Highland games events and a few strength events, such as the stone carry, Wallace sword hold for time, and the spear throw, which was popular with the audience.
 
Saturday's open competition was won by Scott Stansell with a good all-round performance, but in Sunday's competition, Scott Campbell dominated nearly all the events and excited the crowd with three perfect 12 o'clock tosses in the caber and a 30' throw in the 16-lb. sheaf.
 
Athletic director Ian Elder was delighted with how well the games were received at the festival and looks forward to making next year's show even bigger and better.

The next big event to take place under HASA (Heart of America Scottish Athletics) and IHGF (International Highland Games Federation) is the IHGF All American Highland Games Championships, which will be contested on 26–27 September in McPherson, Kansas, where the triumphant winner will go forward and represent his country in the 2016 IHGF World Amateur Highland Games Championships in Fefor, Norway.  This is one games you won't want to miss!

 
                                                      ###



You can also follow IronMind on Twitter and on Facebook.                        



Want to talk strength?  Join the IronMind Forum.