Jyrki Rantanen Teams Up with Strongest Man in Finland
Jyrki Rantanen reported to IronMind that he is teaming up with the Strongest Man in Finland Association.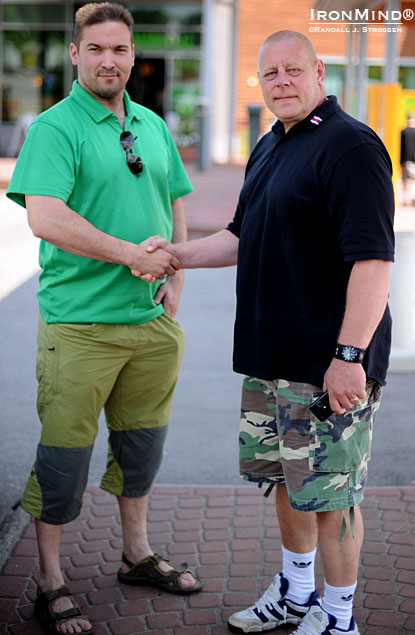 Jyrki Rantanen (left) and Markku Suonenvirta (right) shake on their agreement as Rantanen joins forces with the Strongest Man in Finland. IronMind® | Randall J. Strossen photo.


"I'm glad to join this historic association with the pioneers of power Ilkka Nummisto and Markku Suonenvirta," Rantanen said. "My part of the project is international relationships with different organizing parties, partly marketing."

Rantanen also pointed to his recent experience as a strongman competitor and familiarity with the strongman world as the being the likely basis for bring something new to the competition.

"We are moving forward quite rapidly and already the Strongest Man in Finland association is starting international co-operation with US and other international Strongmen," said Rantanen.

"Years ago, our nationals had visitors like Bill Kazmaier, O.D. Wilson and Jon Pall Sigmarsson as a guest competitors and with kind co-operation with North American Strongman (NAS) we are proud to publish our agreement about competitor exchange—the winner of Strongest Man in Finland competition will have a spot in the Amateur Strongman World Championships 2012 (operated by NAS) and some of the top athlete from US will be a quest competitor in Strongest Man in Finland competition.

"This as a huge advance for the community of strongman and especially the amateur side of strongman: with international co-operation we are raising new generations of strongman [competitors], who later can succeed in pro-competitions like WSM, Arnold or for example SCL," Rantanen said.

Asked to comment, Dione Wessels told IronMind,"NAS, ASC and I are excited to be able to offer the top amateur competitors in the world a platform to compete at a higher level as well as with a large audience. The international experience will definitely help to create great strongman competitors for the future of the sport. ASC is excited to add its 27th country to the Arnold Amateur World Championship roster for 2012."

###



The IronMind Forum: discuss this article, talk strength, get help with your training.

You can also follow IronMind on Twitter.