Justin Major Certifies on the Crushed-To-Dust! Challenge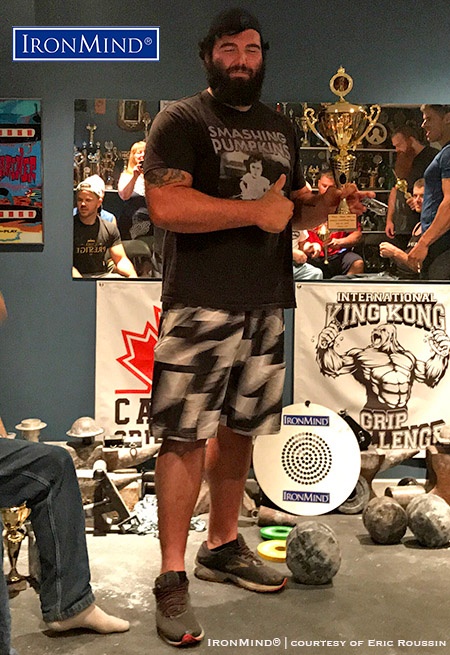 Keep your eye on Justin Major—he's an accomplished armwrestler who's now competing in grip contests, and proving his star is on the rise, Justin has been certified on the Crushed-To-Dust! Challenge.

"[The 2018] Ontario Armlifting Open was a success, with several competitors putting on strong performances. Prior to the start of the contest, Justin Major took on the Crushed-to-Dust! Challenge and aced it! 
 
"A little background on Justin: he's a 6'5", 295-lb 21-year-old from St-Albert, Ontario, Canada. He's been armwrestling since the age of 16, and began competing in grip contests in early 2017. In addition to the Ontario Armlifting Open, he also won the super heavyweight class at the 2018 Canadian National Grip Sport Championships this past February. In October he will be traveling to Antalya, Turkey, to compete in the World Armwrestling Championships in the Under 21 division.
 
"He has a bright future ahead of him in both armlifting and armwrestling!," said Roussin, whose accomplishments and keen eye make him fully qualified to recognize talent in both arenas.

The Crushed-To-Dust Challenge was launched by IronMind in 2012 as a quick, fun way to demonstrate superior grip strength, using three benchmarks in the grip strength world: Captains of Crush grippers, the Rolling Thunder and the IronMind Hub. Anyone who certifies on the Crushed-To-Dust Challenge should have the level of hand strength required for superior performance on the job, in your hobby and even in situations where your life or someone else's might depend on how strong your grip is.

Many thanks, Eric, and congratulation, Justin—your name has been added to the certification list for the Crushed-To-Dust Challenge.

                                               ###



You can also follow IronMind on Twitter, Instagram and on Facebook.                     


Want to talk grip, strongman, weightlifting . . . everything strength? Visit the IronMind Forum.