"Just Like a Tom Cruise Movie"
As he is coming down the homestretch with his Jon Pall Sigmarsson movie, Hjalti Arnason described the situation as being "just like a Tom Cruise movie."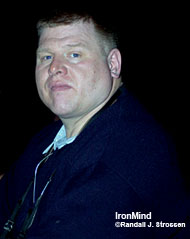 Turning his talents toward filmmaking, Hjalti Arnason already has a number of successes to his credit and his movie on Jon Pall Sigmarsson will premiere in Reykjavik next week. IronMind® | Randall J. Strossen, Ph.D. photo.
When he was a top powerlifter and strongman competitor, Hjalti Arnason's nickname was Ursus, and bears worldwide probably felt honored by the comparison. Now, Arnason has turned his attention to filmmaking and he has already won praise from an international director who passes out compliments about as often as snow falls in Doha.

Explaining that he is busy working on trailers and tending to other last minute details, Arnason said that he cannot walk around Reykjavik without being surrounded by people asking about the film. "It's just like a Tom Cruise move," Arnason said.

The premiere of the Jon Pall Sigmarsson film is in Reykjavik next week and it will be attended by the fortunate few who will be coming from as far away as the United Kingdom and the United States - the movie that Hjalti Arnason created on the life of Jon Pall Sigmarsson, the superstar strongman, is already proving to be magnetic.