Junior Worlds: Cen Wins the 56s
Busan, Korea - If you had any doubts about the just-implemented 1-kg rule giving a new way to sort things out on the platform, all you had to do was check the snatch results from the first A session at the Junior World Weightlifiting Championshps today: The top five lifts in the 56-kg men's snatch competition were 123, 122, 121, 120 and 119 kg!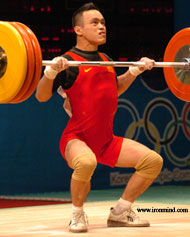 Cen Biao goes under 156-kg, on his way to winning the 56-kg category at the Junior World Weightlifting Championships today. IronMind® | Randall J. Strossen, Ph.D. photo.
Based on this class, it was also clear that the 1-kg rule wasn't going to just automatically open the door for a lot of micro increases - instead, it was going to be used to drive a wedge between competitors by, for example, opening one kilo above the guy you're trying to beat.

Hoanganh Tuan (Vietnam), who won the snatch, opened with 118 kg, Jadi Setiadi (Indonesia), who ended up with the silver medal in the snatch, opened with 117, and the bronze medalist in the snatch, Lee John-Hoon (Korea), opened with 116. Of course, there were misses that affected the final outcome, but you could see right away the potential for jockeying for a winning position right out of the gate.

Of the top three lifters in the snatch, Lee opened first, missing 116, and then the came back to make it on his second attempt. Setiadi opened with a good 117, and Hoanganh made 118 on his first attempt. If you've never seen Hoanganh lift before, don't doze when he comes up the steps because he's over the bar and launching it before you can blink.

Lee made 121 on his third attempt. Setiadi hit 122 on his second, and Hoanganh had no difficulty getting 123 overhead on his third, but he was turned down, and came back for a two-to-one success on his third attempt. Setiadi went for all the marbles with 125, but the bar sailed up and over his head.

In the jerk, Lee and Hoanganh both made 145 on their openers, and both missed 150 on their second attempts, the weight that Cen Biao (China) had opened with for an easy success. Chen had snatched 120 kg, for fourth place, so he was within striking range of the leaders.

Lee came back to make 151, Hoanganh hit 153, but then Cen made 156 to beat Hoanganh on body weight in both the jerk and the total, with Lee getting his second and third bronze medals of the day.