Juha Matti Jarvi: Three Contests, Three Wins
"Juha Matti Järvi continues his excellent performances winning the 3rd stage of Finland Giants Live qualifier," Ilkka Kinnunen reported to IronMind as Jarvi continues his sweep of the Finnish national series that leads up to an invitation to Giants Live - Finland, a World's Strongest Man qualifier in August.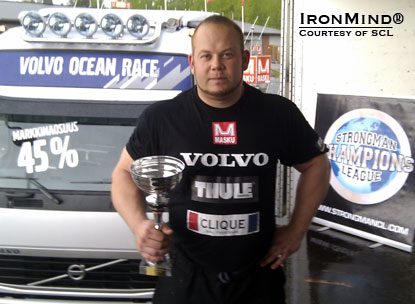 With a perfect start, Juha Matti Jarvi leads the Masku Finnish national strongman series, putting himself within reach being invited to the Giants Live–Finland contest, the last qualifier for the 2011 World's Strongest Man contest. IronMind® | Courtesy of SCL.


"The third stage of Finnish national qualifier was done in the middle of Finland, in Jyväskylä. The weather was not the best for the athletes, as most of the time it was raining and it also made the sandy surface more difficult for some of the events - especially the Truck Pull," Kinnunen said.

"The Truck Pull was the first event and the truck is the same truck that athletes have been using in other qualifiers also: the Volvo Ocean Race truck. The distance was 15 m and last 6 m uphill was actually too much for all athletes to finish the whole course. Top three were Janne Aimasmäki 11.22 m, Jarno Kirselä 10.76 m and Kai Pasanen 10.68 m.

"The second event was the Farmer's Walk ,where athletes carried 126 kg in each hand for a distance of 40 m. Fastest was Juha Matti Järvi with time of 26.44 s, Kai Pasanen 29.31 s, Jarno Kirselä 37.09 s.

"The third event Log for reps with 125 kg in 60-second time limit. Juha Matti Järvi who did the event last, only did what was needed to win this, one 4 reps and first place; second was Veli Pekka Kauhanen with 3 reps and third place went to three athletes with 2 reps.

"The fourth competition event was Sack Loading. Once again the platform height was excellent, 145 cm, which of course makes loading more difficult. Five sacks and 5 m distance for each. The winner who else but Juha Matti Järvi with time 30.69 s; second was Jarno Kirselä 31.35 s and third was Veli Pekka Kauhanen at 32.79 s.

"The last event of the day Deadlift for Reps, with a weight of 300 kg and 60-s time limit. First place was Jarno Kirselä and Kai Pasanen with 8 reps, and third was Juha Matti Järvi with 6 reps.

"Once again, excellent competition with a good audience even with rain; people were cheering from under umbrellas for the athletes and their excellent results."

Here are the official overall results, for the top seven:
| | | |
| --- | --- | --- |
| 1. | Juha Matti Järvi | 29.0 |
| 2. | Jarno Kiselä | 27.5 |
| 3. | Kai Pasanen | 23.5 |
| 4. | Veli P Kauhanen | 17.0 |
| 5. | Janne Aimasmäki | 16.0 |
| 6. | Janne Rahikainen | 14.0 |
| 7. | Henri Peiponen | 10.0 |
"The last stage will happen in Oulu on June 3," said Kinnunen. "This is the final chance to collect points and get invited for the International World's Strongest Man Giants Live qualifier, which is August 13 at the Trucker Festival (Power Park, Finland)."

###


The IronMind Forum: discuss this article, talk strength, get help with your training.

You can also follow IronMind on Twitter.