Juha Harju Breaks CoC Silver Bullet World Record
Congratulations to Juha Harju who has broken the CoC Silver Bullet Hold world record with a time of 46.6 seconds.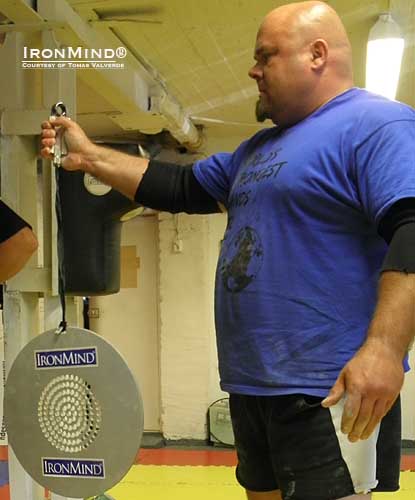 Finnish gripster Juha Harju broke the world record in the CoC Silver Bullet Hold with a time of 46.6 seconds. IronMind® | Photo courtesy of Tomas Valverde.


As is required for world record attempts on both the CoC Silver Bullet and the Rolling Thunder, the material submitted in support of the lift was reviewed—that review has been completed and it's now official that Juha Harju's time of 46.6 seconds stands as the new world record, breaking the previous world record of 43.25 seconds held by Mark Felix.

The CoC Silver Bullet Hold has proven extremely popular since being developed and introduced by IronMind earlier this year as it makes gripper competition exciting for the audience, easy to officiate and equally well suited for competitors who feel their hands are too big, too small or just the right size for grippers.

IronMind would like to note that Juha Harju made the decision on this quite easy for us because he not only followed the CoC Silver Bullet rules to the letter, but also—as requested—he supplied IronMind with both video and photos that demonstrated this was the case.

###

The IronMind Forum: discuss this article, talk strength, get help with your training.

You can also follow IronMind on Twitter.