Jouni Mähönen, Harri Tolonen Break IronMind Hub World Record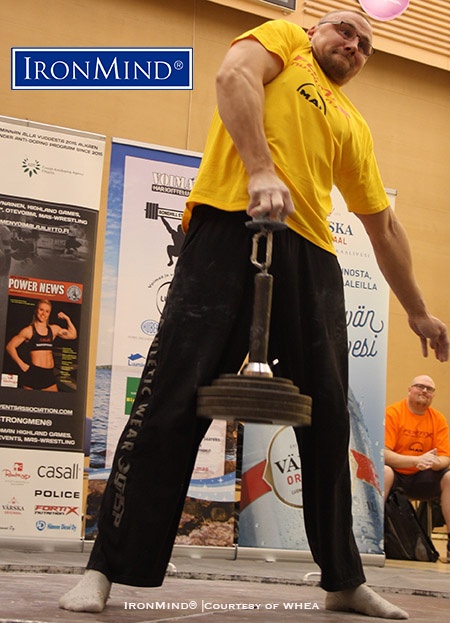 The WHEA Finnish Grip Nationals had a solid turnout and performances that included not just one, but two men breaking the world record on the IronMind Hub.

2017 WHEA Finnish Grip Nationals
by Jyrki Rantanen
Chairman, WHEA

WHEA's 2017 Finnish Grip Nationals were held at Luumäki sports centre on Saturday, February 4, and we witnessed great achievements by athletes in different weight classes.

The competition started with a speech by the chief of the commune and after that the event started in front the audience and we witnessed some great entries by some newcomers of the grip field in Finland,

Then first event was the IronMind Apollon's Axle for reps in one minute with weights of 80-90-110-120-140kg (5 categories in the competition) and the results varied between 7-13 reps for women and  0-17 reps (17 x 140-kg axle in a minute by Harri Tolonen). The second event was 63mm crusher with results being up to 51.3 kg (Rytkönen in women's classes and 90.05 kg Tuomi in men).

After a small break it was time to make some real records as IronMind Hub has always been a good event for Finns and this time we saw the thing we have been waiting for: a world record!

Others did also great results, but in this event the day belonged to Jouni Mähönen and Harri Tolonen as at first Jouni Mähönen broke the former world record with good lift of 39.90 kg, but his joy was not long as the newcomer Harri Tolonen first tied Jouni's kilos and then became the first man in history to officially ift over 40 kg on the IronMind Hub...now the new record is written with the numbers of 40.90kg!

The good numbers continued in the fourth event, which was IronMind Block.  The ladies started with new Finnish record (23.15 kg) by Anu Rytkönen and the men followed as far, that Mähönen and Joronen did 43.40 kg and Pynnönen and Tolonen nailed 44.65 kg and they also gave a shot for a new world record, but this time 47.6 kg was a little too much.

After 4 heavy events it was time for last crushes as we put the CoC Silver Bullet Hold to the athlete's hands. We witnessed brave attempt for a world record with the Captains of Crush No. 4 gripper from Mähönen, Lehtimäki, Tolonen and Tuomi, but only Tuomi was able to make a time with it (4.82 sec). With the CoC No. 3,  the times were between 2-30 seconds, which was understandable after 4 events.


The organizing team was Bonehill Strongman led by Arto Joronen and his crew did an excellent job as they ran the show smoothly. The events were judged by WHEA Chairman Jyrki Rantanen.

Here is the link to the video of Harri Tolonen's world record on the IronMind Hub.

Here are the the final results:

Women -72kg
1. Leena Nurminen 5

Women Open
1. Anu Rytkönen 6
2. Jaana Tanner 9

Men -83kg
1. Niko Junnilainen 7
2. Petri Rantalainen 8
3. Juha Issakainen 12

Men -93kg
1. Jouni Mähönen 5,5
2. Tuomas Maunola 9,5

Men Open
1. Harri Tolonen 9,5
2. Tomi Tuomi 13,5
3. Arto Joronen 19
4. Juha Lehtimäki 19,5
5. Jesse Pynnönen 20
6. Jaakko Nikkilä 27
7. Juhamatti Paajanen 30,5


                                  ###



You can also follow IronMind on Twitter and on Facebook.                        



Want to talk grip, strongman, weightlifting . . . everything strength? Visit the IronMind Forum.