Jouko Ahola: "2006 World's Strongest Man Will Be The Best Ever"
One of the most popular World's Strongest Man winners, Jouko Ahola has moved easily between the roles of competitor, event/equipment designer, commentator and official - giving him an unusually broad and balanced perspective, which is part of the reason for the credibility he brings to strongman.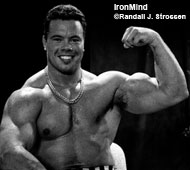 Jouko Ahola could afford to relax and smile: Following his 1997 World's Strongest Man victory, he had just won the 1998 World Team Championships in Holland. IronMind® | Randall J. Strossen, Ph.D. photo.
"I think the 2006 World's Strongest Man contest will be the best one ever," Jouko Ahola told IronMind®, summing up his view of this year's competition. Set for September in Sanya, China, the 2006 MET-Rx World's Strongest Man contest begins with the advantage of having a top location, which Ahola strongly endorses. "The place is incredible," he said.

Ambience is not to be discounted, as the World's Strongest Man contest is not simply big strong guys lifting weights in a gym - it's a dramatically staged contest that combines sport and entertainment in a way that has made the show hugely popular worldwide: Among strongmen themselves, it is considered the world championships, while to the public, it's likely to be the only strongman contest they can name.

Springing from the stage of the dramatic setting will be a series of events designed to test the strength of the competitors in visually appealing ways, and while the official list of the 2006 WSM events has not yet been released, the assumption is that some of the show's signature events will be joined by some exciting new additions. And with Ahola's involvement, the smart money says to expect some big things this year.

Regardless of the exact form and mix of events, though, it seems likely that they will be designed to create the excitement that only comes when the events have a dynamic nature. In contrast to the trend in some contests toward such heavy events that there is little movement and a low percentage of the field actually demonstrates mastery, it seems likely that World's Strongest Man will follow a very different format, one that will also test strength, but in a visually arresting way that captures the audience's imagination and keeps everyone glued to competition.

Stay tuned.