Jon Pall Poster: The Winners
Many thanks to everyone who entered the contest describing what "It's not a problem . . . for Jon Pall" meant to him or her.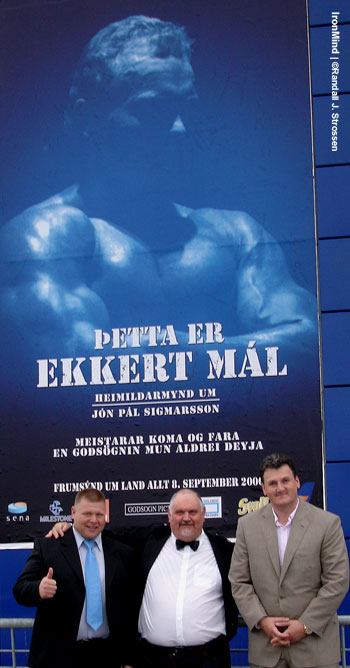 Hjalti Arnason, Douglas Edmunds and Mark Higgins (left to right) outside the Smarabio theater in Reykjavik, at the premiere of the Jon Pall Sigmarsson documentary by Hjalti Arnason and Steingrimur Thordarson. IronMind® | Randall J. Strossen, Ph.D. photo.

Our original intention was to pick one winning response, but we ended up choosing five: Congratulations to Brent Lukowich, Andrew Joakim, Tim Dolen, Ed Chung and Brandon Verret, and many thanks to everyone who was inspired enough to send in an answer, all of which touched on how this statement of self-belief inspired greater effort and greater results.

Deepest thanks, as well, to Hjalti Arnason for making this film, not to mention creating the opportunity for this contest.