Jon Pall Movie . . . No Icelandic, No Problem
With the premiere of the Jon Pall movie drawing near, English-speaking fans in the US are already asking if they will have to take a crash course in Icelandic before the film is released worldwide.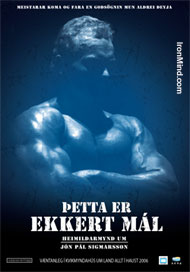 The Jon Pall Sigmarsson movie, produced by Hjalti Arnason, will premiere in Reykjavik on September 7 and predictions are that the strongman world will never again be the same. IronMind® | Movie poster courtesy of Hjalti Arnason.
"It's 70 percent in English," producer Hjalti Arnason told IronMind®, "and the remaining 30 percent has English subtitles," so it is ok if you don't speak Icelandic and you won't have to wade through endless subtitles, either.

Arnason, an Icelander with a formidable record in powerlifting and strongman who has turned his attention to documentaries in recent years, brings a rare combination of knowledge and passion to this project - the result is certain to be unlike anything ever seen or done in the world of strongman.