Jon Pal, Kaz and Geoff Capes
"Early morning mist swirled around the floor in the upper reaches of Huntly Castle as the three mighty men stood motionless, each holding a huge claymore . . .," to determine who was the strongest of all, because as the Kaz's T-shirt declared, "There can only be one."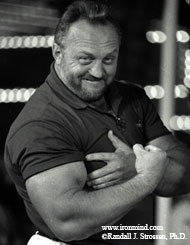 Ten years after Huntly Castle, Bill Kazmaier, maybe looking mightier than ever, flexes his arm at the 1997 World's Strongest Man contest. IronMind® | Randall J. Strossen, Ph.D. photo.

It's been called the greatest strongman contest ever, and it took place in 1987, when there was a lapse in the World's Strongest Man contest, and it brought together Jon Pall Sigmarsson, Bill Kazmaier and Geoff Capes for the sole purpose of deciding who was the strongest. And as the book Sons of Samson - Volume 2 describes even the mere setting, you know that this was one dramatic strongman contest.

Hjalti Arnason, who just happened to be the tester for the historic Huntly Castle competition, told IronMind® that he has just acquired the footage from this once-in-a-lifetime strongman competition, and that his upcoming documentary on the legendary Jon Pall will include several minutes of this epic battle.

Arnason confirmed that he is on schedule for a September 2006 release of his Jon Pall Sigmarsson film, and to give you and idea of how dense and action-packed this will be, Arnason said that, "over 100 hours of footage will be reduced to a film of less than 90 minutes."

Stay tuned to for more details.