Jon Andersen: Ready For Holland
"I'm looking forward to going over to Holland and mixing it up with the best in the world," Jon Andersen told IronMind®, as he prepares to compete in this weekend's IFSA Holland Grand Prix.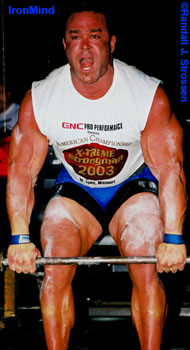 He made a big splash in NAS in 2002, and in 2003 Jon Andersen debuted as a professional strongman; in St. Louis that year, he was already so muscular that at least one reporter thought he was a bodybuilder who came to watch the strongman contest, not one of the competitors. Jon's now about another 30 pounds heavier. IronMind® | Randall J. Strossen, Ph.D. photo.
Last year, Andersen said he only competed in one individual contest, but this year, he's already got three under his belt and he says that it's making a huge difference in terms of his performance levels and his IFSA ranking. Currently weighing about 315 pounds, Andersen said that his recent bests include squatting 700 x 10 (belt and briefs), and pressing 409 x 4 with a regular bar.

Always known for having a lot of endurance for a strongman, Andersen said that he has been cross training on submission grappling, with great cardio benefits, even if he wakes up with a sore throat sometimes. "Oh, yeah," he said, "I got choked yesterday," adding, "I usually won't tap out."

Emphasizing how happy he is to be competing in Holland this weekend, Andersen added, "It feels like IFSA is back on track and acting like a complete federation."