John Wojciechowski Certifies on the Red Nail
It's the steel bend known around the strength world—the IronMind Red Nail—and the today John Wojciechowski has been certified as officially completing this feat of strength.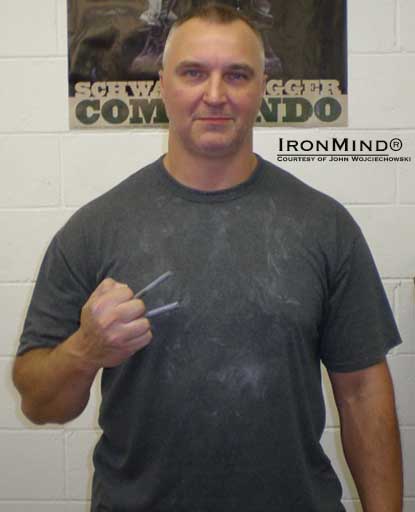 41-year old John Wojciechowski stands 6' 2" tall and weighs 265 lb., and the IronMind Red Nail proved no match for his strength. IronMind® | Photo courtesy of John Wojciechowski.


"I've been weight training in one form or another since I was 14 years old and I'm always looking for different ways to challenge myself. I've only been grip training for the past two years and I just started double overhand bending at the beginning of 2013. I'm still working towards a number of other grip related goals including a COC#3 Cert [Captains of Crush No. 3 gripper certification].

"The sport of grip has such a supportive community and I've learned so much from so many different people, but I'd especially like to mention Cesare Ricchezza, Nathaniel Brous, Mike Sharkey, Jedd Johnson and of course my wife Sam as each of them has contributed to my bending success in different ways.

"I'd also like to thank Jon Chipko for serving as the referee and being incredibly generous with his time," John told IronMind.

IronMind would also like to thank Jon Chipko and be first to say congratulations to John Wojciechowski—it's official and your name has been added to the Red Nail Roster, the official list of men certified on the IronMind Red Nail.


### 



The IronMind Forum: discuss this article, talk strength, get help with your training.

You can also follow IronMind on Twitter and on Facebook.