Joefrey Wibrin Certifies on the Captains of Crush No. 3 Gripper
Joefrey Wibrin said he "discovered grip training six years ago while searching to improve his grip for deadlift training," and one thing must have led to another because he's just been certified on the Captains of Crush No. 3 gripper, proving his world class grip strength.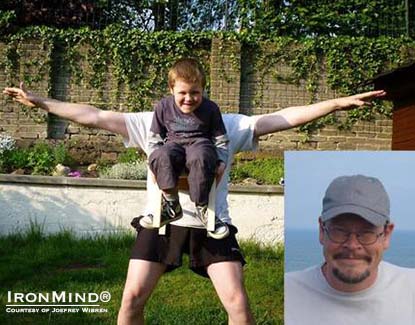 In the above picture Joefrey is teeth lifting his son, "showing that he has more than one trick up his sleeve. I would be proud to teach my sons, Nils and Noé, what is mind and body strength about," he told IronMind. Joefrey Wibrin is the latest man to be certified on the Captains of Crush No. 3 gripper. 40-years young, Joefrey stand 5' 11" tall and weighs 204 lb. IronMind® | Photo courtesy of Joefrey Wibrin.


"At IronMind, I didn't only find the best equipment on the market but I also had access to the best informations about hand strength. From then, it wasn't long before I was bitten by gripper bug!," Wibrin said.

"First time I grab a CoC No. 3, I said to myself: It will only be a collector's piece! That day I understood the level of strength one must have to close it. After several months of ferocious battles and a lot of skin lost, I was able to close the No. 2 and the No. 2.5. Then I considered the possibility to eventually close the No. 3.

"I have set up small targets and they came one after another. It's a long road to achieve such a goal (i.e., closing a strong gripper) and you need milestones to never lose your way. They help you to keep away from giving up. What serves me most is iron will (and patience of course!)"

"Thanks again to IronMind for this beautiful challenge. Many thanks to Andy de Pooter, the official referee, for making this certification possible."

Congratulations, Joefrey (and many thanks for your kind words!); your name has been added to the official Captains of Crush No. 3 certification list, and thank you Andy de Pooter for serving as the referee on Joefrey's official attempt

### 



The IronMind Forum: discuss this article, talk strength, get help with your training.

You can also follow IronMind on Twitter.