Jin: Another Win for the Chinese Weightlifting Team
Busan, Korea - The Chinese Weightlifting team won the men's 62-kg class at the Junior World Championships today, just as they had won the 56-kg class last night, but don't think it was easy.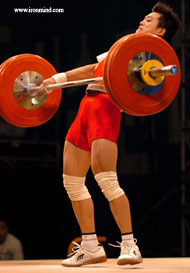 Jin Jiangtao, in a do-or-die situation, had to hit this 128-kg snatch, and he did. IronMind® | Randall J. Strossen, Ph.D. photo.

With a pile of misses on the board already, Jin Jiantao (China) might have started after everyone else was done, but he was in synch with his predecessors as it took him three tries to hit 128 kg.

Florin Veliciu (Romania) landed the silver medal in the snatch after traveling a very different route: He was the only lifter in either the A or the B session to make all three snatches (115, 120, 123). Alexandru Dudoglo (Moldavia) reminded everyone why Smortchov is now a verb in weightlifting - he lifted in the B session, but his 122-kg snatch was good enough for the bronze medal.

He finished the snatches in eighth place, but someone might have forgotten to tell So Ho-Cheoi (Korea) that this meant he was done for the evening. As it turned out, his gold medal clean and jerk of 157 kg put him in silver medal position in the total, with one attempt left - the last attempt of the class.

Jin had missed 147 on his first attempt, but he came back to make it and then he hit 150 on his third attempt, leaving him with a 278-kg total. Jin was lighter, so Seo, sitting with 277, called for the 159 kg that would give him the gold medal in the total, and while he pulled it in, he couldn't stand up with it.

Also showing the power of uncorking a big clean and jerk at the right moment, Katsuhiko Uechi (Japan) got the bronze in the total via 115/157.