Jim Schmitz: Same Day Seven-Minute Miles and 100-Kg Snatches
Running and weightlifting, as in how to combine running and Olympic-style weightlifting, is subject of Jim Schmitz's latest training article.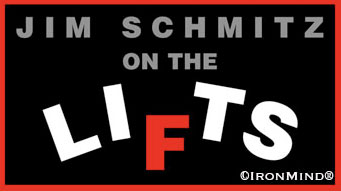 Among his credentials, Jim Schmitz is a three-time coach of the USA Olympic weightlifting team, so when he talks about weightlifting, it's time to listen. Logo courtesy of IronMind® Enterprises, Inc.


No armchair expert on the subject, Jim Schmitz says that when he was 35 years old, he once "ran 5 miles in 38 minutes (a 7:36 mile) around 9 a.m., had a big breakfast, and around 2 p.m. snatched 102.5 kg and clean and jerked 125 kg at a bodyweight of 82.5 kg." This sounds pretty impressive to us, and we think a lot of people could benefit from having this level of endurance, power and stamina, simultaneously.

Whether you are a weightlifter who is thinking about running, or a runner who is thinking about weightlifting, don't lace up your shoes until you read the latest "Schmitz on the Lifts." Go to the Training Articles button at the top of the IronMind® home page and select "Schmitz on the Lifts."