Jesse Marunde: Feeling Good, Doing Well
"I'm sitting on top of 325," Jesse Marunde said, "but I've still got abs."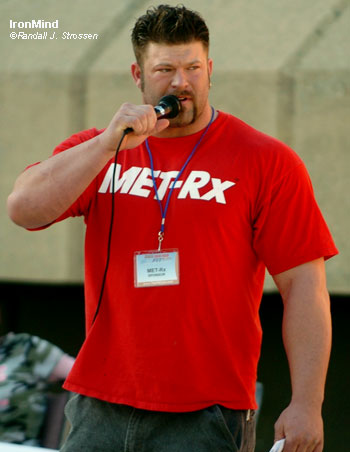 Backed up by 325 pounds of energetic muscle, Jesse Marunde works the mike and entertains the crowd at the 2007 FitExpo, where the MET-Rx All-American Strongman Challenge was a big hit. IronMind® | Randall J. Strossen, Ph.D. photo.

He's heavier than last year at this time, but Jesse said he's in super-fit condition because he is putting an hour a day of cardio work as part of the rehab work he is doing for his knees. And talking work, Jesse said, "I get up at five and get home at 8:30," he's not knocking it because he said sitting still is not his style.

"My knees are still healing," the 2005 World's Strongest Man runner-up said, so he's coming off a period of primarily upper body training, along with reverse hypers and ab work. And while he would not say that he's at 100% yet, Jesse said his knees are pain-free for the first time in years.

Work is piling in Jesse said, and things are going so well in terms of his personal training business, working for his sponsors and emceeing/refereeing contests, that Jesse is going to be very selective about which contests he competes in this year, he told IronMind®. First up, Jesse said, will be the WSMSS contest at Muscle Beach on June 16 - selected, he said, because it gives him the maximum amount of time to let his knees heal, he can still qualify for the 2007 World's Strongest Man contest and because "it's in the same time zone."

Holding off on predictions for his performance at the 2007 WSM contest, Jesse said, "It's too early to tell. I need to be at 100% to see how my new body performs."