Jesse Marunde: Coroner's Report . . ."Genetic Heart Defect"
Callie Marunde told IronMind that she just received the coroner's report and would like "to put the kabosh on the rumors" surrounding her husband's death.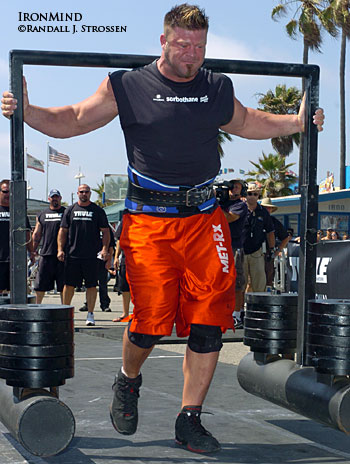 Jesse Marunde on the Super Yoke at the World's Strongest Man Super Series Muscle Beach Grand Prix in June. Tragically, Jesse Marunde - an extremely popular strongman competitor - died just weeks later. IronMind® | Randall J. Strossen, Ph.D. photo.
Rumors are running rampant on the forums, Callie Marunde said, with people speculating about what caused Jesse Marunde's death, frequently using drug-based themes. Yet, "the toxicology screen turned up nothing," Callie Marunde said. "Jesse died from cardiac arthythmia due to hypertrophic and dilated cardiomyopathy. We always knew he had a large heart and the coroner confirmed this, stating the enlarged heart was a genetic defect. The coroner explained that Jesse 'could have passed anytime.' I am blessed to have so many precious memories of the short time he had with our daughter."

Callie Marunde told IronMind® that she wanted to share this information from the coroner's report because "the people who are stirring the pot" have no knowledge of Jesse's family history as it relates to heart disease, and this should be emphasized.