It is the kind of news that nobody wants to hear: Jesse Marunde died on Wednesday.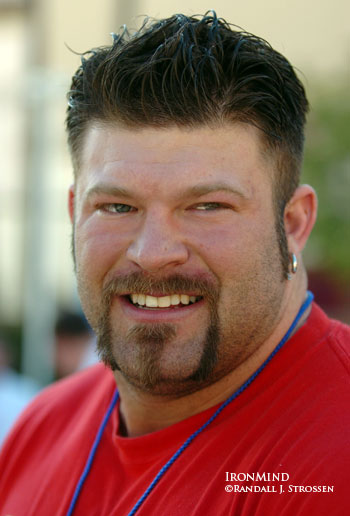 Jesse Marunde at the 2007 FitExpo, where he emceed the strongman contest. Thank you for the light you brought, Jesse . . . May you rest in peace. IronMind® | Randall J. Strossen, Ph.D. photo.
"It was Wednesday evening, the 25th, that Jesse had the heart attack," Jesse's father, Chuck, said, "while working out in the gym in Sequim. They could not revive him."

Jesse's death left the strongman world in shock and with an overwhelming sense of sorrow and loss, because Jesse Marunde was an effervescent, room-lighting, crowd-pleasing showman who also happened to be one of the world's top professional strongmen.

"On behalf of the entire Marunde family and as Jesse's father," Chuck Marunde told IronMind®, "I want to express our deep appreciation for the warm and loving support we have received from the worldwide strongman community. Jesse's sudden passing has caught us by surprise, and we all are in shock and disbelief. Our sorrow is so great, words seem to fail us, but your prayers and your love and generosity are our stronghold. Thousands from around the country and the world are mourning, and we are sharing this great loss together.
"Jesse's influence was amazing. He touched thousands of lives, and the legacy he leaves in his short 27 years is extraordinary. Word spread rapidly around the world, and Jesse's website and forum crashed late Wednesday as tens of thousands tried to get online in an attempt to learn more, express their sorrow, and to remember Jesse's impact on them personally.
"At a candle light vigil Thursday evening in Sequim in front of Jesse's gym, a couple hundred people gathered to share songs, to hug, and to share the loss. Four children were playing in the dirt outside the gym, and while lifting a little stone, a boy about nine years old said, 'I'm going to be just like Jesse.' That boy had no idea Jesse's father was there. I was profoundly touched by that. Many I did not know came to hug me and Jesse's brothers and share their loss. A man in his 80's embraced me and told me Jesse spent time with his grandson, and with tears in his eyes this grandfather told me that Jesse saved his grandson's life.
"Jesse was determined to be the strongest man in the world, but his priorities were God, family, and then career. He told his brother, Bristol, the Sunday before his death, that being a strongman was his passion, but the best part of his day was going home to his wife, Callie, and his three-week-old baby girl. In all the years I've observed married couples, I never saw a couple so much in love as Jesse and Callie. Callie's loss is inexpressible.
"Jesse was a great athlete, a great strongman, but he was first a great man, husband, and father. Jesse's faith was strong, and he once told me that he knew God had given him his strength and power for a reason. Those of you who knew Jesse, know that he always liked to challenge and confront. He wanted results, not talk. Jesse was intensely focused, and he also got right to the point, sometimes with blunt words. I was there when Jesse was born, and I've spent my life raising him, and then supporting and encouraging him as an athlete. We talked a lot about what was important in life, and how to think clearly and how to be successful. I know how Jesse thought, and so I think that in light of how we are reflecting on Jesse's legacy and his extraordinary influence on the world, if Jesse wanted to give us a message now, it might be, 'What will your legacy be?' 'What will you do for the Kingdom of God?'

"In loving memory of Jesse Marunde, and on behalf of the family, I am his proud father, Chuck Marunde."