Jedd Johnson Wins U.S. National Grip Strength Championships
The Diesel Crew's Jedd Johnson won his U.S. National's Grip contest this past weekend—holding off last year's champion Andrew Durniat and a handful of other competitors.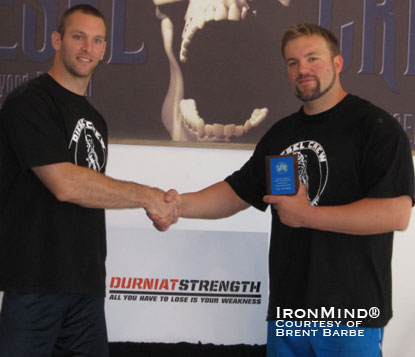 Andrew Durniat (left) congratulates Jedd Johnson (right), winner of the 2010 U.S. Grip Strength National Championships. IronMind® | Photo courtesy of Brent Barbe.


The events were grippers, two-hands pinch lift, Axle deadlift, a medley, and wrist roller. Explaining the medley, Johnson said, "The medley included carrying a 120-pound anvil with one hand by the horn, tearing a phone book, bending a bolt, ripping a deck of cards, and 20+ other challenges," which sounds kind of like one of Mike Dayton's old exhibitions on . . . SUPER SQUATS.

###


Want to talk strength? Join the IronMind Forum!

You can also follow IronMind on Twitter.