Jean-Francois Caron: Top Strongman in 2017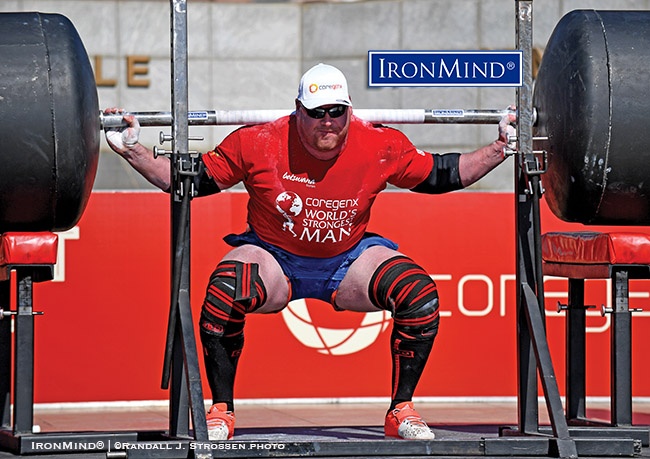 Jean-Francois Caron has been named by Fortissimus World Strength as the Strongman of the Year.



Jean-Francois Caron is the 2017 Top Strongman of the Year
by Paul Ohl
President/Founder
Fortissimus World Strength

 
According to the FORTISSIMUS WORLD STRENGTH RANKING SYSTEM, Canada's strongman Jean-François Caron ( 7 x Canada's Strongest Man), ends the 2017 international Strongman year with 305 points on a possible 725 total points. Caron edges out Slovenia's own Matsaz Belsak , 292,5 points . Dainis Zageris of Latvia ranking 3rd with 187,5 points.
 
The ranking system accounted for 23 international competitions organized over a span of nearly 11 months by the following : World's Strongest Man, Arnold Strongman Classic, Arnold Pro Strongman World Series ( 6), Strongman Champions League Grand Prix Circuit ( 11), Giants Live Europe's Strongest Man, Giants Live Tour Finals (2), Strongman Champions League Grand Finale.
 
Jean-François Caron was on the starting list of 10 international competitions ending up with 9 x top 5 places, 7 x podiums and 3 wins.
 
Caron was the only international strength athlete to make a top 5 in all five major organizations during the current year.
 
This exceptional track record of Jean-François Caron ranks him as the greatest Canadian strength athlete in modern history.
 
First ever since 1977, the FORTISSIMUS WORLD STRENGTH RANKING SYSTEM has met the approval of the major strongman organizations.
 
Odd Haugen of Strongman fame stated : "a ranking system is needed."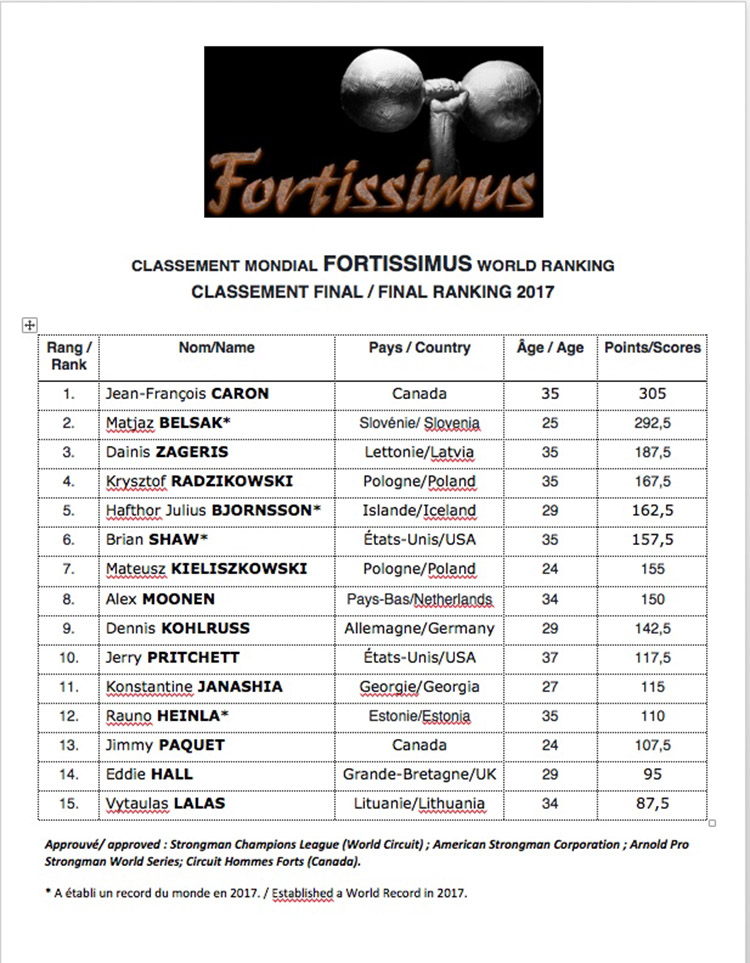 ###



You can also follow IronMind on Twitter, Instagram and on Facebook.                        


Want to talk grip, strongman, weightlifting . . . everything strength? Visit the IronMind Forum.