Jean-François Caron: The King of Canadian Strongman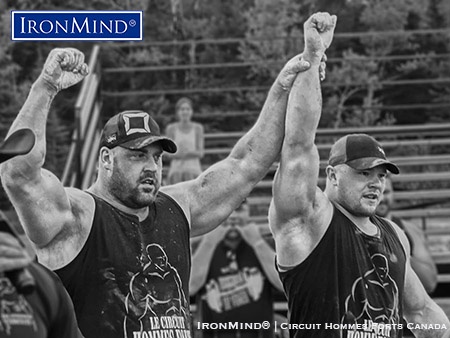 Jean-François Caron won his eighth consecutive Canada's strongest man contest this weekend—further reinforcing his position as the premier Canadian strongman—and Fortissimus's Paul Ohl was on hand, reporting for IronMind.


Jean-François Caron: Historic 8th Consecutive Canada's Strongest Man Victory
by Paul Ohl, Fortissimus
 
Canada's most prominent strength athlete achieved what many considered as an impossible feat : winning the Canadian Strongest Man contest 8 consecutive times (2011-2018). The 2018 Canada's Strongest Man contest was held this past week-end at Plantagenet, Ontario, Canada, with a field of 14 competitors. At age 36, Jean-François Caron just accomplished what former Canadian great, Hugo Girard, once claimed to be « impossible » as he referred to his own track record of 6 consecutive wins ( 1999-2004).

But it was more than just another win for Jean-François Caron. The man now considered to be Louis Cyr's legitimate successor in the country known as the "cradle of strongmen", had a huge 2018 strongman season with top five rankings both at World's Strongest Man and Arnold Strongman Classic , to which he added a win at the Arnold Pro Strongman World Series ( Africa), a runner-up podium at the Arnold Pro Strongman World Series ( Australia) and a 3rd place podium at the Arnold Pro Strongman World Series ( Canada).

With this historical win, Jean-François Caron becomes the second strength athlete in modern times strongman to claim more than 75 career contests (80) and 8 consecutive national strongman titles. The all-time leader being the Lithuanian legend Zydrunas Savickas with 218 career competitions and 12 consecutive national titles.

Worth mentioning is the 3rd consecutive runner-up place of 25 year old sensation Jimmy Paquet, considered by many as one of five future Strongman international stars.


                                               ###



You can also follow IronMind on Twitter, Instagram and on Facebook.                        



Want to talk grip, strongman, weightlifting . . . everything strength? Visit the IronMind Forum.