Jason Johnston Victorious the Canadian Highland Games Championships
Jason Johnston defended his Canadian Highland Games Championships title with a solid performance at the Victoria Highland Games.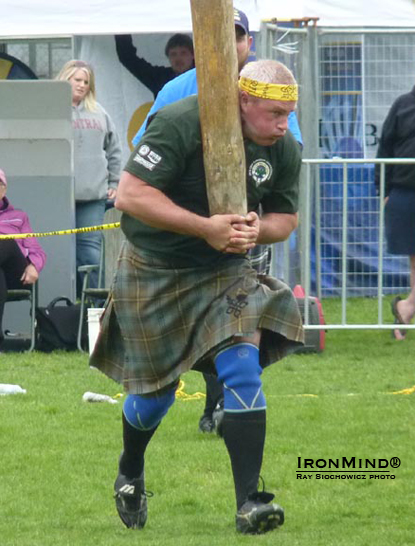 Jason Johnston won the caber, not to mention the overall title, at the 2012 Canadian Highland Games Championships, in Victoria, British Columbia. IronMind® | Ray Siochowicz photo.


2012 Canadian Highland Games Championships
by Francis Brebner

The Victoria Highland Games, one of Canada's premier Games, attracted more than 20,000 spectators this year as it proudly hosted the 2012 Canadian Highland Games Championships. Jason Johnston had one of the best all-round performances of his throwing career, despite fouling out in the second event of the first day with the 56-lb. weight for distance, and was crowned the Canadian champion for the second year in a row.

Johnston forged ahead mentally and focused on the remaining events in the championships to make a surprising comeback, winning seven of eight events and establishing two new ground records.

The first event, the 26.4-lb. Braemar stone, was one of the biggest surprises as Johnston dominated the event with an outstanding put of 40' 1.25", which smashed the 2010 ground record set by Poland's Sebastian Wenta at 39' 9.5". In second place was Matt Doherty with 36' 6.5" and in third, Greg Hadley with 35' 4.5".

In the 56-lb. weight for distance, Johnston fouled out and it looked as if his chances of regaining the title were in jeopardy. The event was won by Hadley with a distance of 40' 4.5"; in second was Doherty with a respectable throw of 38' 0.5", and in third, Rob Young with 37' 8".

The 16-lb. hammer was a highlight as Johnston, who was totally in the zone, lobbed the winning throw an incredible distance of 139' 3", shattering Larry Brock's 2010 ground record of 137' 4". Second place was a tussle between Hadley and Doherty with second place just marginally going to Hadley at 127' 8.5", leaving Doherty in third at 127' 4".

The 56-lb. weight over the bar was won by Johnston at a height of 16', with a tie for second at 15' between Hadley and Doherty.

The final event of the first day of competition with the 20'-long, 132-lb. caber was won by Johnston with a perfect 12:00 toss. Young also clocked 12:00 but came in second on countback, and third was Markus Wand with 12:10.

On Sunday morning the skies were a little overcast with a small amount of rain in the late morning but they cleared somewhat in the afternoon. The 17.8-lb. open stone was a close event, with the top three athletes all within inches of each other. The win went to Johnson with a put of 48' 6"; second was Hadley at 48' 2" and third, Doherty at 48' 1.5".

In the 28-lb. weight for distance, Johnson was in a realm of his own with his throw of 78' 9.5", more than a meter in front of his nearest rival, Hadley, at 74' 6". Young trailed in third at 74' 3".

In the final event, the heavy hammer, Johnson's dynamic throw of 109' 3.5" clinched the win. Hadley was second at 104' 7" and Josh Goldthorp took third at 98' 11.5".

Overall placings:
1. Jason Johnston
2. Greg Hadley
3. Matt Doherty
4. Rob Young
5. Danny Frame
6. Markus Wand
7. Dirk Bishop
8. Josh Goldthorp
9. Owen Willems
10. Christoph Wand

###

The IronMind Forum: discuss this article, talk strength, get help with your training.

You can also follow IronMind on Twitter.