Jarek Dymek: WSM 2008 . . . And 400 kg as the New 800 Pounds
Jarek Dymek told IronMind® that he had planned to retire from strongman competition, but because he was injured in this year's World's Strongest Man contest, he will be back again next year . . . so watch for Jarek to produce some big results in World's Strongest Man 2008.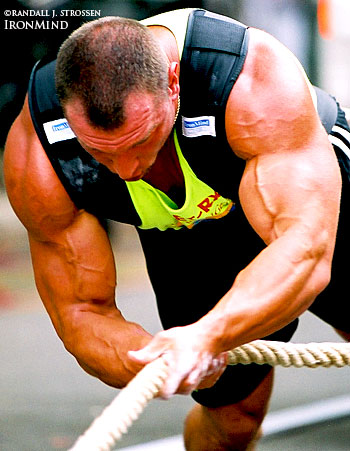 Maybe if they ever get tired of competing in strongman, Jarek Dymek and Mariusz Pudzianowski could team up and write a book entitled Secrets of Polish Arm Training. Besides being very strong, these two guys can make a lot of bodybuilders look underdeveloped. IronMind® | Randall J. Strossen, Ph.D. photo.

Incidentally, Jarek said, in his opinion, Mariusz Pudzianowski will use the deadlift as his gauge for deciding whether or not he will compete in the 2008 Arnold or similar contests that have more of an IFSA-style bent toward heavier, more static events than are traditionally featured in strongman contests such as the World's Strongest Man competition.

Jarek told IronMind® that Mariusz's personal record in in the deadlift is 400 kg, but he has only done it once, and his guess is that Mariusz will test himself on this lift: If he can do 400 kg in a commanding style by mid-January, watch for Mariusz at the Arnold strongman contest.

It wasn't very long ago that an 800-pound deadlift was a watershed accomplishment - now, it seems that 400 kg (about 880 pounds) is the new 800 pounds.