Janne Hartikainen Leads After Second Day at the IFSA 105k World Championships
"Today's events started with the Xiying Yajing Cup Arm Over Arm pull with three Chinese Beauties sitting in the sled," IFSA USA president Dione Wessels reported.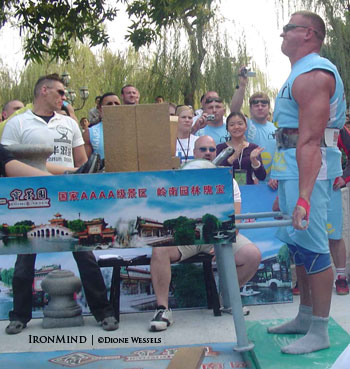 Maris Rozental hits an IFSA record on the deadlift at the IFSA 105-kg World Championships. IronMind® | Photo courtesy of Dione Wessels.

This was the beginning of day two in the IFSA 105-kg World Championships, and Wessels's full report follows:

"The event proved challenging for all athletes, but not overly challenging for everyone. The top five in the event were Zdravko Zanev (Bulgaria, 25.03), Sergi Konyushok (Ukraine, 24.23), Jason Scheepers (South Africa, 21.25), Janne Hartikainen (Finland,20.97), and Gert Gorsanov (Estonia, 20.43). After presenting awards to the top three, the Panyu Tourism Farmer's Walk (120 kilo each) for 75 meters started. This event proved to be challenging and difficult for many with only seven athletes completing the distance. The top five athletes in the discipline were Janne Hartikainen (Finland, 53.65); Zdravco Zanev (Bulgaria, 53.1), Sergi Konyushok (Ukraine, 47.26), Alvidas Brazdzius (Lithuania, 41.58), and Fouad Hsaini (Holland, 38.28).

The third and final event of the day was the Baomo Garden Cup Max Deadlift. The athletes had to take each attempt. The weight was started at 300 kilos. This weight was a breeze for all but one athlete. After 350 kilos, the apparatus was then loaded to 400 kilograms, and the weight seemed difficult for those left lifting.

The apparatus was then loaded to 480 kilos, and three athletes were left. It was a successful attempt for all three, so IFSA directors called for the apparatus to be loaded to 500 kg for the two athletes left, Maris Rozental of Latvia and Danny Andersson of Sweden. Danny gets the bar halfway up, but could not lock out. Now the show stopper Maris is up and the crowd is going wild. Maris picks up the weight, and with perfect form, locks out the weight to take the win in the event and the record as well. The top three finishers were Piotr Piechowiakf of Poland (480 kilos), Danny Andersson of Sweden (480 kilos), and Maris Rozentals of Latvia (500 Kilos).

Following the award ceremony, the athletes were given a tour of the Famous Baomo Garden. They were greeted with a Chinese tradition of Hot Ginger Milk, Tea, and a live orchestra performance.

With four more days to go and six more events, the top three overall so far are Janne Hartikainen of Finland with 56.5 points, Alvidas Brazdzius of Lithuania with 54.5 points, and Sergi Konyushok of Ukraine with 54.5 points."