Jani Kuusisto Certifies on the Captains of Crush No. 3 Gripper
The final qualifier for the 2012 IronMind Grip Classic had plenty of action, and what better place for Jani Kuusisto to prove he had what it takes to certify on the Captains of Crush® No. 3 Gripper.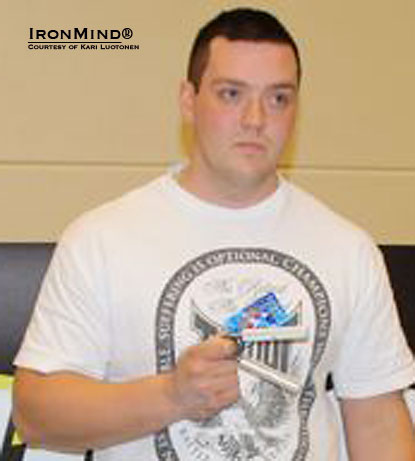 Jani Kuusisto has just been certified on the Captains of Crush No. 3 Gripper. He said that the CoC No. 4 is next. IronMind® | Photo courtesy of United Strongmen®.


"The action started when Jani Kuusisto took his official attempt to close the Captains of Crush (CoC) No. 3 gripper. I had an easy job as a referee due to along with the view, ears could hear it, too, and me and the local organizer Tomi Kujala (certified on the CoC No. 3 himself also) had thumbs up," Jyrki Rantanen told IronMind.

Jani is 24 years old, stands 182 cm (about 5' 11-1/2") and weighs 110 kg (about 242 lb.) He lives in Merikarvia, Finland with his girlfriend and is working in a plastic factory. He has been training for grip 4 years and said his goal is to certify on the CoC No. 4 gripper. Congratulations, Jani—your name has been added to the official certification list for Captains of Crush® No. 3 gripper.

"In the actual competition, Kuusisto just secured his spot to the semifinal stage with needed weight and Timo Tuukkanen had easy day to take another win to his pocket with some nice lifts like Apollon's Axle [double overhand deadlift] 180 kg without any problems. On the ladies' side, strongwoman Annina Saine demolished all the qualification standards and gave a brave attempt for new Finnish record for Apollon's Axle with 110 kg, but missed it at knee height. Terhi Vuorela also took a spot to semifinal and our list will have 13 men from three different countries, along with 6 women, who are all battling out for the spots in the final.
Rantanen was quick to praise the organizers in Merikarvia, Finland—who provided a sports hall with all the amenities.

Looking forward, the semi-final of the IronMind Grip Classic will be held in Finnish Fitness Expo on September 9 and the final will be held during the Hämeenlinna Power Weekend, November 23-24.

After the competition Timo Tuukkanen made himself also be the first man in Finland to certify with on the Crushed-To-Dust! Challenge: all 3 events were done with showman style and performed in less than half of the 3 minute time limit. I trust there´s more men in Finland, who are capable of certifying on the CTD Challenge, but Timo will be always remembered as the first one.

And of course we had some CoC Silver Bullet attempts after the main competition and the best times were nearly 30 seconds, when who else but Timo Tuukkanen had his first ever attempt on the event and after those big efforts in the competition he hit the time of 29.19 seconds," Rantanen said.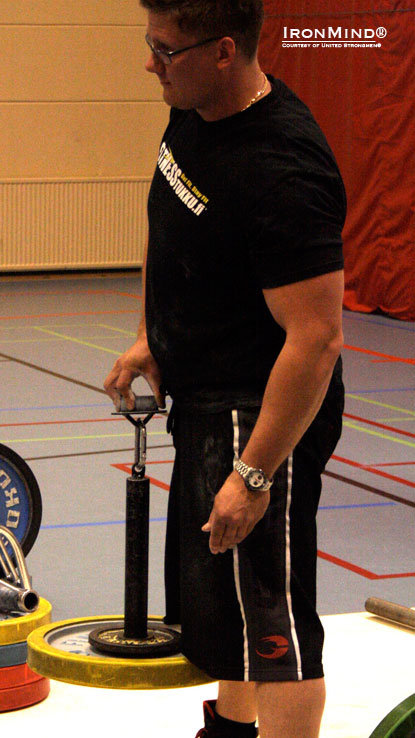 Timo Tuukanken made short work of the Crushed-To-Dust! Challenge, the first Finn to certify on this test of grip strength. IronMind® | Photo courtesy of United Strongmen®.

###

The IronMind Forum: discuss this article, talk strength, get help with your training.

You can also follow IronMind on Twitter.