Jan Heller Certifies on the IronMind Red Nail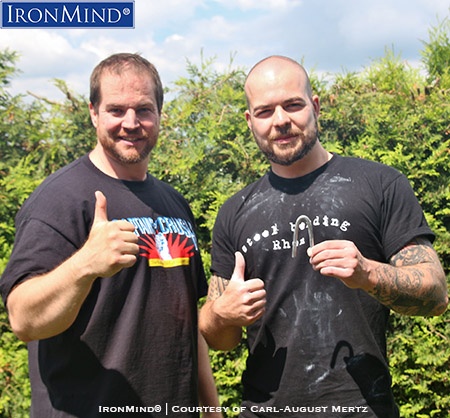 His main sport is Brazilian jiu-jitus, but Jan Heller (Germany) has shown his potential as a steel bender as well: the 26-year old has just been certified on the IronMind Red Nail.

J



"I came to nail bending in spring 2015 when I searched the Internet for some grip strength informations which I found on the IronMind website. Then I started with some light steel and tried to went with small steps towards the red nail. Unfortunately I had some injury-breaks because of my main sport BJJ [Brazilian jiu-jitsu]. 

"In 2016 I wanted to get the certification and therefore I trained a lot with the Red Nails until I could bend one in ten seconds, and then I contacted IronMind for a certification date. Now my next goal is to bend bigger steel.

"I want to thank my future-wife Michele for the love and the support and also a big thanks to my referee and great host for the day Carl-August Mertz," said Heller, who stands 181 cm tall, weighs 85 kg and "works in the purchasing department for a mechanical engineering company."

Carl-August Mertz (Red Nail '12, CoC-3 '15), told IronMind, "After the 'business' we had the 'pleasure': a tasty barbecue and a cool training session, where Jan bent his first horseshoe! (As there is still no 'Black Nail' ;-) I'm bending horseshoes since last December, which is great fun and a very good all-around training...) Jan is a great guy (his girl Michelle also) and I hope everything is fine with his certification and that his name will be on the list soon!"

Referring to the video link:

https://www.youtube.com/watch?v=rOv6-4-V0v8


Mertz said, "As you can see, short work and definitely mastering the Red!"


Congratulations, Jan—it's official and your name has been added to the Red Nail Roster—and many thanks, Carl—you've set a new standard for our referees!
 
                                        ###



You can also follow IronMind on Twitter and on Facebook.                        



Want to talk grip, strongman, weightlifting . . . everything strength? Visit the IronMind Forum.