Jaland Worley Certifies on the Captains of Crush No. 3 Gripper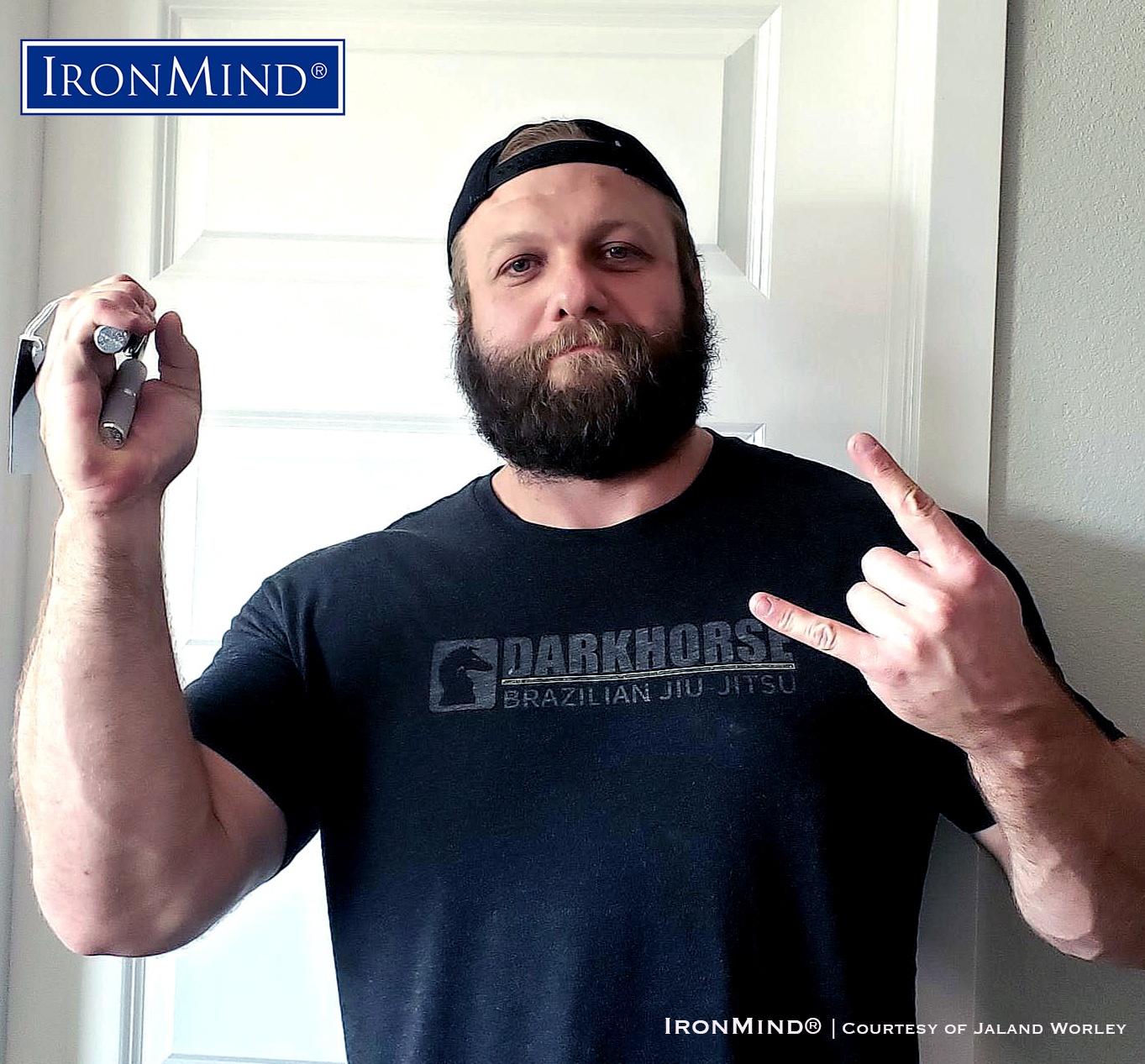 It began in 1991, when IronMind began certifying people who closed the Captains of Crush (CoC) No. 3 gripper under official conditions, and it has since become the single most coveted honor in the grip world and one of the best known feats in the entire strength world: The latest man to make this elite grade is Jaland Worley.
Jaland is 6'0, weighs 260 lb., is 36 years old, and he told IronMind, "I currently manage an IT team for a large health and wellness retailer. I've been strength training and bodybuilding for about 18 years off and on as life throws curveballs at me.
"Physiques come and go, but one [thing] that has always been steady is my grip strength. I casually trained my grip for a while, but I decided to get serious about it a few months ago, once I realized father time is creeping up on me and my genetic gifts have an expiration date.
"In addition to proving this to myself, I want to give my two sons a good example of what we can do when we commit to something and remain consistent and focused on the work. This is a niche sport, but this is an incredibly astounding accomplishment for me. I am proud of myself."
Jaland said that he started training with CoC gripper "about 12 years ago, but just squeezed a No. 1 or a No. 2 for a while. I've been training consistently with good programming for about three months now. I train in bodybuilding and jiujitsu as well, so these complement my grip training."
And talking about natural talent, Jaland said he could close a CoC No. 2 about 12 years ago.
"I train pinch and crushing grip twice a week, each. I do warmup sets, working sets and challenge sets with my grippers. Then I use the Hub, Go-Really Grip Machine and a Rolling Thunder to train the other variants of gripping. I also train extensors and do other strange arm lifts."
Congratulations, Jaland: It's official and you have been certified on the Captains of Crush No. 3 gripper!
Here is a link to the video of Jaland Worley's official attempt to close the CoC No. 3 gripper.
Also, IronMind has to say we're with you when you told us, "We will be talking about all of this for the #3.5 soon. :)"
###


You can also follow IronMind on Twitter, Instagram and on Facebook.
Want to talk grip, strongman, weightlifting . . . everything strength? Visit the IronMind Forum.