Jaana Tanner Breaks Women's World Record on the Rolling Thunder®
Finland's Jaana Tanner broke the women's world record on the Rolling Thunder today at the IronMind® Grip Classic–Volume 2.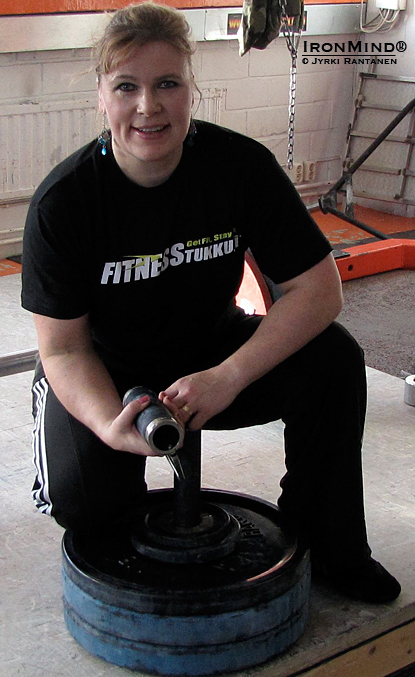 Janna Tanner and the world record weight she pulled on the Rolling Thunder at the IronMind Grip Classic Vol. 2. IronMind® | Photo courtesy of Jyrki Rantanen.


The IronMind Grip Classic–Volume 2
by Jyrki Rantanen

The IronMind Grip Classic tour started today in Voimapuoti Gym (organizer Gripmonsters) in Helsinki with some of the top gripsters in Finland included and the greatest performances were again done by the top ladies.

In grippers, Jaana Tanner and Yvonne Häkkinen did easy credit card reps with a Captains of Crush® No. 1 and Yvonne handled also a Captains of Crush (CoC) No. 1.5 gripper without any problems, so we might hear some CoC No. 2 attempts from Finland during 2012.

The real bomb came when we put the Rolling Thunder® on the floor: Yvonne showed some good improving shape with a solid 55.5-kg lift, but Jaana had hunger for records and asked for a new Finnish record for her second lift, 63 kg, and it looked like she was picking up a glass of milk from the table. After the applause stopped Jaana discussed things with her coach and the next attempt was to break Elizabeth Horne´s world record of 65.61 kg (144.4 lbs). Since we worked in kilos our opportunity was to load 66.75 kg (146.91 lbs) and Jaana smoked that like nothing and our question now is, Will Jaana Tanner from Finland be the first woman on earth to break the 70-kg barrier on the IronMind Rolling Thunder?

Some might think, that after you have done world, your wind is gone for the day, but not this time as when we moved to the Apollon´s Axle deadlift Jaana dusted the old record of 106 kg and wrote the new one with the numbers 107.5 kg!!!

In the Apollon's Axle deadlift, Yvonne secured her semifinal spot with solid 90-kg lift, but that only gave the bronze in the event today since the new comer Alina Leisiö did a nice lift with 100 kg and also got the new national record off from the floor, but could not lock it out yet.

After the ladies' shining performances, we did not expect to see anything spectacular in the men's clas, but we were happy to witness that Timo Tuukkanen, Mika Toiviainen, Teemu Peltola and Antti Mourujärvi secure their semifinal spots with good lifts over the qualification limits. In points, Timo Tuukkanen was the overall winner today followed by Toiviainen and Peltola.

Along with these lifts we saw good efforts, but all athletes did not got their spots yet, although they can try again after a few weeks in famous Bullfarm gym. Also, some top names are aiming to compete later in the Spring in other qualifications.

So, at the moment the following athletes have secured the spot to semifinal, which will be held in our Fitness Expo in September:

Women
• Jaana Tanner
• Yvonne Häkkinen

Men
• Timo Tuukkanen
• Mika Toiviainen
• Teemu Peltola
• Antti Mourujärvi

We are looking to have minimum of 10 athletes in each class, so if there aren´t enough people over the qualification limits we will look back to our notebooks and pick up the next best lifters to fill that number of competitors—based on what we saw today, we won´t have that problem 

Special Thanks to the tour sponsor Fitnesstukku!

Here´s the link to the WR video in youtube: http://www.youtube.com/watch?v=l9cWlFrFYtg&feature=share


###



Visit the IronMind Forum: talk strength, discuss this story. Strongman, grip, Highland Games, Olympic lifting, stones and more.

You can also follow IronMind on Twitter.