Ivan Abadjiev: The Next Step
He has been called the pope of weightlifting and people at the center of the sport literally travel halfway around the planet to seek his advice - now, Ivan Abadjiev is in Northern California, thanks to Alexander Krychev, and what is coming next just might stop the weightlifting world in its tracks.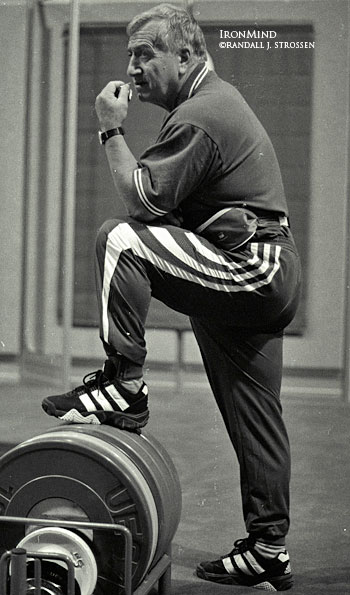 He came to Atlanta to help Naim Suleymanoglu win his third Olympic gold medal in weightlifting and now Ivan Abadjiev is in California, on a mission to help restore US weightlifting performances. IronMind® | Randall J. Strossen, Ph.D. photo.

Most people would count themselves as very strong if they could deadlift three times their bodyweight, but for Ivan Abadjiev a mark of success in weightlifting is a triple-bodyweight clean and jerk . . . something his top lifters have done.

Saying that it is unacceptable that "the most powerful and developed country in the world does not have competitors in the A session of the World Weightlifting Championships," Alexander Krychev told IronMind® that he brought Ivan Abadjiev to California to help restore the US's position in international weightlifting.

Addressing the recent woes of weightlifting in the US, Krychev said, "We need to improve all of this," as he recounted the glory days of US weightlifting in the 1950s, and he specifically named Tommy Kono and Paul Anderson as examples of past American superstars in the weightlifting world.

To trigger this revival of US weightlifting fortunes, Krychev said he plans to open a weightlifting academy, "like the tennis academies in Florida, to give American weightlifters the opportunity to prepare under the guidance of Ivan Abadjiev."