It's Official: World's Strongest Man 2014 is Returning to Los Angeles
World's Strongest Man is returning to the Commerce Casino in Los Angeles later this month and all eyes in the strongman world will be focussed on the action.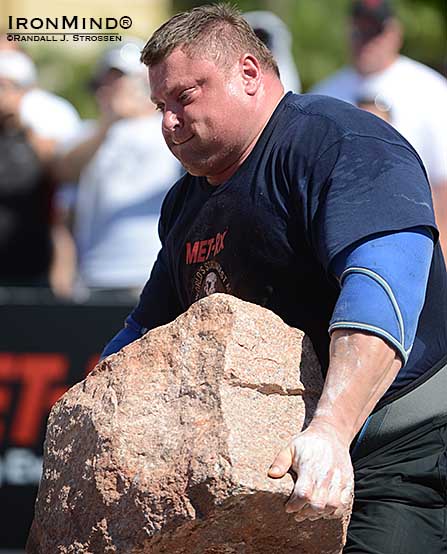 Zydrunas Savickas won the 2012 Commerce World's Strongest Man contest and given his performance in Columbus a week ago, it sounds as if he's ready to rock at the encore. IronMind® | Randall J. Strossen photo


Filming dates for the qualifiers are March 22–25 and March 28–29 for the finals, so mark your calendar if you would like to see the show that created strongman, and you might even end up in a crowd shot.

Specific venue details are as follows: 



Qualifiers

March 22 – Commerce Casino

March 23 – Paramount Studios

March 24 – Commerce Casino

March 25 – Universal City Walk



Finals
March 28 – Venice Beach
March 29 – Commerce Casino

The World's Strongest Man contest is the brainchild of IMG executive Barry Frank, who told IronMind he wanted to entertain people in their leisure time; and for more than three decades, Mr. Frank has done just that as men of mastadonic proportions lift, pull and otherwise pit their strength against massively defiant objects that in the past have even included a Lockheed C-130 Hercules military transport plane. Explaining the show's concept at its most fundamental level, Mr. Frank said that people enjoy watching things they can't do, and that extraordinary feats of strength fit the bill perfectly.

Discussion of the top contenders this year usually begins with a focus on Brian Shaw (USA) and Zydrunas Savickas (Lithuania), with such competitors as Hafthor Julius Bjornsson (Iceland), Mike Burke (USA), Terry Hollands (UK), Laurence Shahlaei (UK), Vytautas Lalas (Lithuania) and Krzysztof Radzikowski (Poland) seen as fully capable of making it to the podium, so every expectation is for full throttle competition that might well go down to the final event.

Watch for updates as IMG releases additional details about the Commerce World's Strongest Man 2014.

###



Want to talk strength? Join the IronMind Forum.

You can also follow IronMind on Twitter and on Facebook.