It's Ilya Ilin in the 94s: Kazakhstan's Weightlifting Star Strikes Gold in Beijing
Beijing - The 94-kg class in weightlifting at the Olympics lived up to its pre-event hype as, among other things, the high water mark from the afternoon's B session remained in gold medal position with just a handful of attempts left in the A session this evening.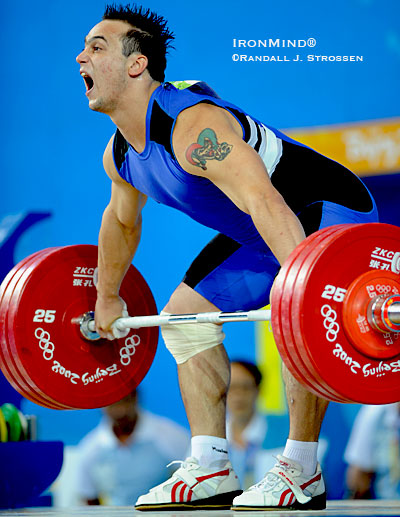 When Ilya Ilin made this 180-kg snatch, he put himself on track to the gold medal, even if he left the platform cradling his left arm. IronMind® | Randall J. Strossen, Ph.D. photo.

But don't think the excitement ended early: After Ilya Ilin cemented his lead on his third-attempt clean and jerk, two guys had a shot at overtaking him.

Khadzhimurat Akkaev (Russia) wasted no time putting a torch to things as he marched through six good lifts in the B session to end with a 185-kg snatch, a 217-kg clean and jerk, and a very formidable 402-kg total. Was this guy trying to pull a Smorchkov?

Szymon Kolecki (Poland) fans felt that if he were to win, he'd have to make two good snatches - he ended up making three (174, 177 and 179 kg), but it would not prove to be enough. Ilya Ilin (Kazakhstan) got his fans going by snatching 175 and then 180 kg, enough to make it look like Olympic gold was in his future, but he came off the platform holding his elbow and when he passed on his third attempt, the question of a possible injury arose. Nizami Pashaev (Azerbaijan) played with fire: after missing 180 kg twice in the snatch, he moved up to 181 and made it. Iran's Asghar Ebrahimi was going to need to put some money in the bank during the snatch if he wanted to show up on the podium, but he only made his 180-kg opener.

Until Ilin opened with 223 in the clean and jerk, the best anyone was shooting for was second place - underlining just what Akkaev had accomplished in the B session. Ilin roared up to the bar, barely got set, ripped the clean and barely paused before jerking it - and just as quickly, the bar came crashing down. Ilin, knowing that this had stunned a lot of people, quickly indicated not to worry, this was not a big deal. Nice to be this confident, especially when you've just missed your opener at the Olympics.

Arsen Kasabiev (Georgia) was next, hitting a solid 223 for second place and Ilin did a repeat of his high speed first attempt only this time he stuck the jerk and someone had finally wrested the lead from Akkaev.

At this point, there were only four attempts left: Kolecki nailed 224 kg for second place and when Ilin made a very nice 226 on his third attempt, to extend his lead, his coach, Alexei Ni, must have had a crystal ball because he ran out on the platform, jumped on Ilin and hugged him as if he'd just won the gold medal. A few minutes later, Alexei Ni was proven correct about this, because Kolecki couldn't stand up with 228 and Kasabiev couldn't get under 231, so the young Kazakh had cleaned house.

Kolecki won the silver medal, three kilos behind Ilin, and Akkaev's B session performance held up for the bronze medal, four kilos short of the winner.