It's Done: Welcome The Cyr/Poundstone 1883 Stone
When Fortissimus was conceived by Paul Ohl, one of its key features was its ties to the past - particularly important since Quebec is known as "the cradle of strong men" and Paul Ohl is doubtless the world's leading authority on Quebec's strongest son, Louis Cyr.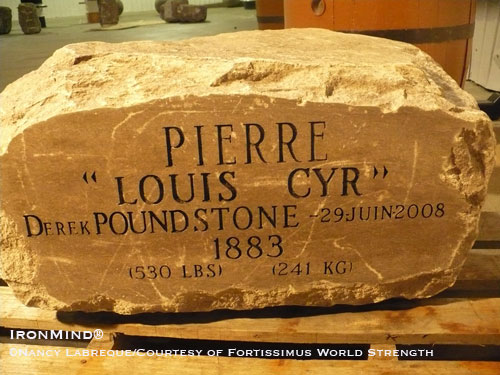 The Cyr/Poundstone 1883 Stone. IronMind® | Photo by Nancy Labreque/courtesy of Fortissimus World Strength.


Last year, the battle for the inaugural Fortissimus title seemed to have been won by the mighty Zydrunas Savickas, but Derek Poundstone was yet to bat. Poundstone did what was necessary to wrest the title from Zydrunas Savickas and how fitting that this was done not just on the last stone of the last event, but even better: this was the stone named in honor of Louis Cyr.

For the rest of the story, please read this statement from Fortissimus World Strength, prepared exclusively for IronMind®.

THE CYR/POUNDSTONE 1883 STONE AS THE FINAL TEST OF FORTISSIMUS 2009
by Fortissimus World Strength

Louis Cyr was 19 when he lifted the never-yet-moved boulder. It happened on the third Sunday of May, 1883, in the backyard of the Suffolk Mills Factory, in Lowell , Massachusetts. From the ground to the shoulder before a gathering of hundreds.

The stone was then moved by six men and weighed in at Olivier Gaudette's general store. It was recorded at 517 lb. Returned to its original spot, it disappeared in 1903.

One-hundred-twenty-five years later, at Fortissimus 2008, Derek Poundstone hoisted the Louis Cyr's stone replica on a 30-inch podium. The only competitor amongst a field of 13 world-class strength athletes to achieve the lift.

In fact, the stone weighed 530 lb., as reported by Marc Lauzon, Fortissimus 2009's supervisor, after the official weighing of the competition's implements, on May 30, 2009.

With the result that the stone has since been engraved with Derek Poundstone's name on it, along with Louis Cyr's. Also engraved was the date of Pounstone's achievement: June 29, 2008.


"The stone will now be a part of strength's hall of fame," said Paul Ohl, president of Fortissimus 2009. "And the best strongmen in the world will have something to aim at."

The Cyr/Poundstone Stone will be the very last lift at Fortissimus 2009. And it may very well decide of the winner once again.