IronMind Grip Classic: Vol. 3
"As it has been a habit, the Ironmind Grip Classic Vol. 3 (2013) is getting bigger each year," contest organizer Jyrki Rantanen told IronMind.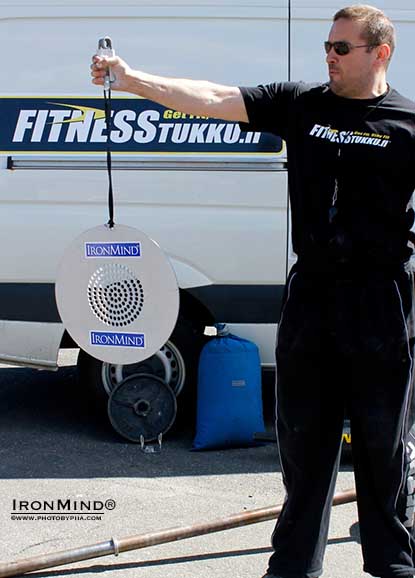 The men's world record for the CoC (Captains of Crush) Silver Bullet has already been set twice on Finnish soil. Is a third one on its way? IronMind® | Photo by www.photobypiia.com.


"This time it will be a part of Fitnesstukku Power Weekend in Helsinki, Finland in November. The events for the qualifications are Rolling Thunder, Apollon´s Axle and the CoC Silver Bullet with the qualification limits mentioned below:

Qualifying Standards (women/men)
Rolling Thunder: 50 kg/80 kg
Apollon's Axle: 80 kg/140 kg
CoC Silver Bullet: 5 sec* / 10 sec**

*Captains of Crush No. 2 gripper
**Captains of Crush No. 3 gripper


"All who do the limits in the qualifications are free to come (with their own cost) to the finals in Fitnesstukku Power Weekend (November) in Helsinki, Finland.

"The finals will also include IronMind Hub-walk (like farmer's) and the last man/woman standing lifting starts from these qualifying standards.

"So far the following events are qualifications and if some country which is not mentioned here would like to have a qualification, please contact info@unitedstrongmen.com before the end of May.

Norway, Valhalla Gym, June (contact: Eirik Ingebritsen)
USA, Ironmind Record Breakers, June 30 (contact: Odd Haugen)
Ukraine, Gurzuf, June 30 (contact: Andrey Sharkoff, president, Armlifting–Ukraine)
Russia, A-1, Moscow, July 28–29 (contact: Nikolay Vitkevich, president, Armlifting–Russia)
Sweden, Eazy Gym/Ystad, August 11 (contact: Anders Lindbladh)

"And in Finland, there is at least six qualification opportunities via Fitnesstukku Power Tour (contact: Jyrki Rantanen) in the following cities between May-September: Tampere, Helsinki, Hämeenlinna, Leppävirta, Oulu and Merikarvia.

"The first stage was set last Saturday in Leppävirta, with Timo Nissinen and Jukka Vesterinen taking a strong grip to the spots for finals. The next stage will be June 13 in Oulu.

"So, at the moment we are having 11 qualifications in 6 different countries, but we welcome new countries in also.

"We are working on the prizes at the moment, but already we can confirm that along with the trophies the winners of each class are awarded with Police/Festina watches and the top three in each class will get supplement packs worth of US$300-200-100, but we might have something bigger coming also so stay tuned."

### 



The IronMind Forum: discuss this article, talk strength, get help with your training.

You can also follow IronMind on Twitter.