IronMind Grip Classic: Start List Promises Big Battles, New Records
"It looks that we are having the all-time [Finnish] greats in same competition finally," said IronMind Grip Classic organizer Jyrki Rantanen. with the promise of big battles and new Finnish records in both the Rolling Thunder and the Apollon's Axle double overhand deadlift.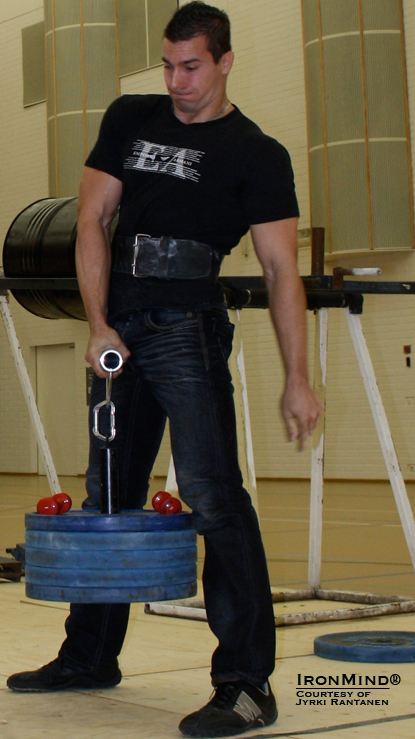 Johannes Suomela exceeding the Finnish Rolling Thunder record of 105 kg in training last year. Photo courtesy of Jyrki Rantanen.


"We have a total of 20 competitors. In ladies' class we have some brave newcomers challenging the lead grip women in the country. Juha Harju´s fiance, Yvonne Häkkinen, is known for having a good grip in all events, and young Annina Saine has posted 100 kg Apollon's Axle lifts [double overhand deadlifts] in training, but can they beat the one and only Jaana Tanner, Finnish Rolling Thunder record holder and if I don´t remember wrong, she has been unbeatable as long as I can remember in Finnish grip contest. Plus, we have 3 more ladies, who can surprise us all.

"For men's class there´s 12 tough competitors hunting for the records and waiting to see who will be the first IronMind Grip Classic champion. The list is better than ever seen here.

Timo Tuukkanen, Tomi Kujala along with Juha Harju are all certified on the #3 [Captains of Crush No. 3 gripper], and are well known elite of Finnish gripsters. The dark horse of the competition is Timo Lauttamus, who has posted great numbers in all kinds of grip events. Then there are several new names, who are able to create some surprises in the results. Also worth mentinoing is a real veteran: 67-year old Vilho Grenfors, who has a long list of national records in timed-hold events.

"And the last, but definitely not the least is reigning Rolling Thunder Finnish Record holder Johannes Suomela and World´s Strongest Man 2000 winner Janne Virtanen, who has healed from his surgery and has now permission to lift objects weighting over 100kg, too. :)

"What we are waiting to see is perhaps a new [Finnish] national record for the Rolling Thunder and the first-time national records for Apollon's Axle.

"In the competition, the overall results will be counted by multiplying the Rolling Thunder result by 2 and adding it to Apollon's Axle lift (2 x Rolling Thunder + Apollon's Axle = total in kilos).

"For the women, the expectations are to see over 200 kg results and for men's, the 400-kg barrier must be broken.

"Along with the top names, I have to tip my hat to all the new names, who are willing to attempt the competition, to give a shot and get some experience. There´s no better way to get experience than competing," said Rantanen.
Here is the official start list.
Men

Juha Harju, Helsinki
Jukka Poskiparta, Seinäjoki
Kim Ljung, Loppi
Tomi Kujala, Merikarvia
Jani Kuusisto, Merikarvia

Timo Tuukkanen, Kotka
Timo Lehtinen, Helsinki
Timo Hokkonen, Huittinen

Ville Säteri, Läyliäinen
Vilho Grenfors, Tuusula

Timo Lauttamus, Helsinki
Juha Soranta, Vantaa
Janne Virtanen, Turenki
Johanne Suomela, Huittinen
Women

Annina Saine, Pori
Yvonne Häkkinen Helsinki

Terhi Vuorela Merikarvia
Jaana Tanner Padasjoki
Leena Nurminen Padasjok
Merja Mynttinen Riihimäki
###

Want to talk strength or discuss this article? Join theIronMind Forum!
You can also follow IronMind on Twitter.