IronMind Black Friday Savings, All Weekend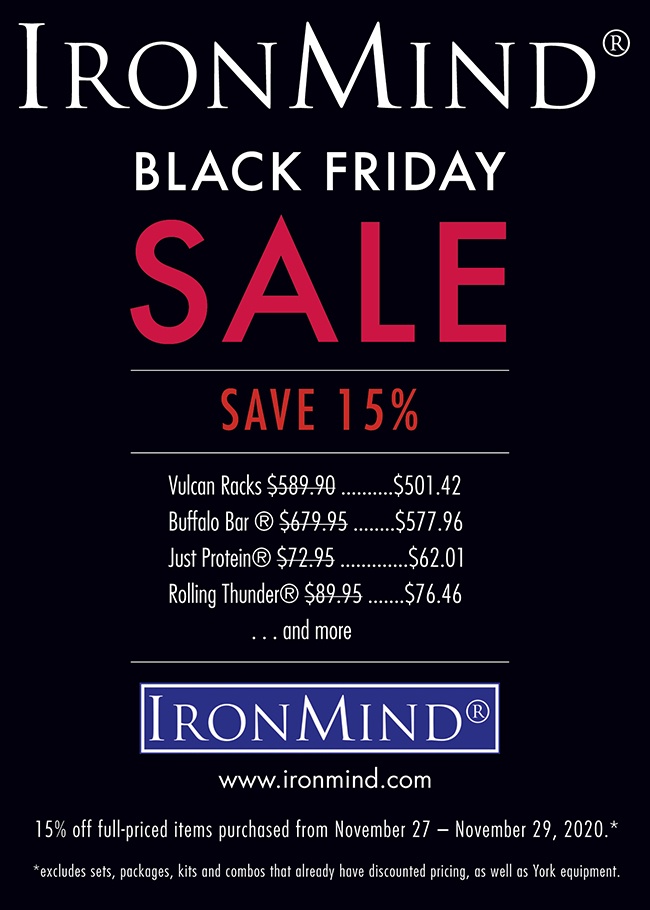 Black Friday (in fact, the entire weekend from November 27 – November 29) is your chance to save on the IronMind® products you've been eyeing.
IronMind's Black Friday sale is your chance to save on products from the leader in the strength world since 1988.

For starters, there's the world-renowned line-up of IronMind grippers—
Captains of Crush®, IMTUG, Zenith and Left-Turn grippers—plus grip tools par excellence such as: Apollon's Axle, Rolling Thunder, Twist Yo' Wrist, IronMind Block, Go-Really Grip Machine and Little Big Horn.
Take advantage of the discount to save on big items, like the Buffalo Bar, Vulcan Racks, ALight, and Five Star Flat Bench, and stock up on essentials like Just Protein®.

Use keycode FRIDAY20 to access these savings in the IronMind e-store.

###



You can also follow IronMind on Twitter, Instagram and on Facebook. 


Want to talk grip, strongman, weightlifting . . . everything strength? Visit the IronMind Forum.