Iran Repeats in Rio: Sohrab Moradi Wins the 94s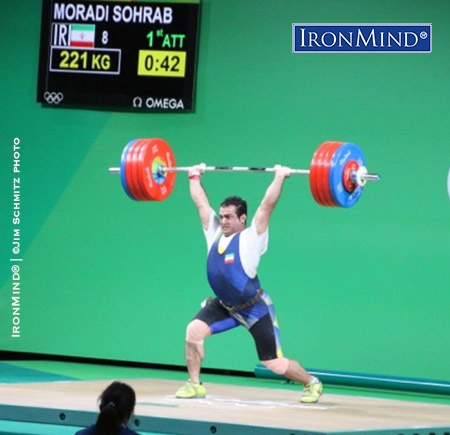 If you needed a day to recover from down-to-wire finishes in the weightlifting competition at the Rio Olympics, the men's 94-kg class did just that as Sohrab Moradi (Iran) coasted to victory.



 
Rio Report: Men's 94-kg Weightlifting
by Jim Schmitz


The 94's were exciting, but there was no fantastic finish.

Iran's Sohrab Moradi cleaned and jerked 221 very easily on his opener, which gave him an 8-kilo lead over Belarus' Vadzim Straltsou, who then took 230 for the lead: he cleaned it okay, drove it to arms' length, but couldn't lock it out.  

With the gold medal secured, Moradi took 234 for the world record, but only deadlifted it, twice.  

There was a good battle for the bronze medal between Thailand's Sarat Sumpradit, who is built like Tarzan, and Lithuania's Aurimas Didzbalis, who is built like King Kong.  

Sumpradit had a perfect 6-for-6 day, totaling 390.  Didzbalis missed his first snatch behind, then his second one in front, before putting the 177 right where it belonged on his third attempt, he then cleaned and jerked 210 and 215 to beat Sumpradit by 2 kilos.

This was the largest and most enthusiastic crowd so far.  The Brazilian's cheer enthusiastically for all the lifters, especially when they see great effort.


                                       ###



You can also follow IronMind on Twitter and on Facebook.                        



Want to talk grip, strongman, weightlifting . . . everything strength? Visit the IronMind Forum.