International Highland Games Federation: Orange County Clinic and Rolling Thunder Championships
Led by Francis Brebner, the first in a series of three International Highland Games Federation (IHGF) clinics was held in Orange County last weekend, with the Orange County Rolling Thunder Championships thrown in for good measure.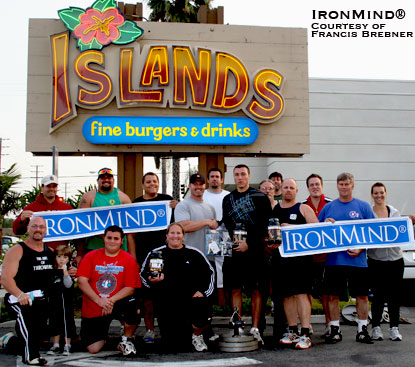 Following their throwing seminar, it was time to fuel up at Islands, before tearing into the Rolling Thunder®. IronMind® | Photo courtesy of Francis Brebner.





One of the athletes, Brian Austin, said, "I saw big improvements from all the throwers yesterday and one in particular that stood out was Kristen Rhodes, who was throwing some 40+ bombs with the heavy weight for distance,'" IronMind® was told, and there was a general feeling that, "Everyone learned from the clinic and took away a ton of experience and knowledge from Francis." 
 


After the six-hour marathon clinic, all the athletes made their way to Islands restaurant for a meal sponsored by Travis Everhart, the regional manager of Islands restaurant," Brebner told IronMind®. "After the much needed meal, all athletes then made ready for their next challenge of the day, which was the Orange County Rolling Thunder Championships.
 


"The competition got off to a great start with the women's event being won by Kristen Rhodes with vice grip lift of 105 lb. In second place was Heather McDonald with 85 lb. and Amanda Mittleman was third with 65 lb.



"In the masters' division, again we saw true grit and determination with a battle between Steve Mittleman, Jim Frazer and Steve Belanger, with Steve Mittleman coming out on top with a winning lift of 145 lb. In second place was Jim Frazer with 130 lb. and in third place was Steve Belanger with 125 lb.



"Now, as we moved up in weight for the title Open Orange County Rolling Thunder Championship, we witnessed a very competitive group fighting it out. Ian Connell won with a weight of 162-1/2 lb., but hot on his heels for second place was a three-way tie between Travis Everhart, Greg Brady and Jon O'Neil, all at 160 lb.

"I would like to thank all our sponsors, which included Chris Kildow of Cytosport for the gift bags for nutrition each athletes and for the overall winner's prizes and also to IronMind® for sponsoring an overall winner's prize and to Travis Everhart of Islands restaurant," Brebner said.