Ingrid Marcum Makes the USA Bobsled World Cup Team
National weightlifting champion Ingrid Marcum was named to the USA 2009 - 2010 Bobsled World Cup team for a position on what U.S. Bobsled and Skeleton Federation CEO Darrin Steele called, "arguably the best team we've ever fielded in an Olympic season."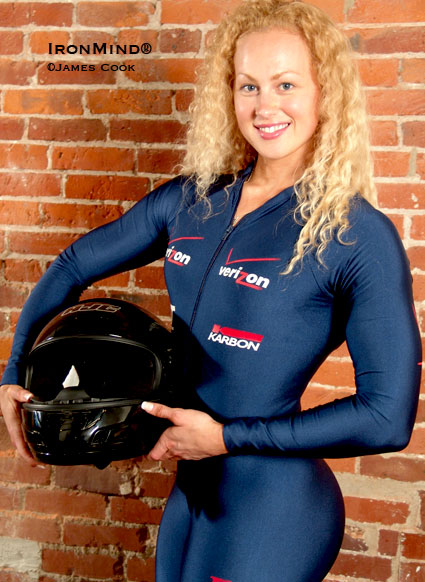 Usually flying through the air, Ingrid Marcum slowed down long enough for James Cook to take this photo. IronMind®


Marcum is on the team as a pusher, which means she harnesses her ability to generate power to help launch bobsleds downhill at speeds that would make some people faint.
"The team trials races ended this weekend, the World Cup team was named and we are already in Whistler, British Columbia ready to start our season with two weeks of sliding on the 2010 Olympic track," Marcum said.
And this is where the fast go even faster.
"The fastest track in the world is the new 2010 Olympic track in Whistler," Marcum told IronMind®. "The women's sleds were approaching 90 mph, and the men's 4-man sleds were approaching 95 mph! Most tracks are a little slower, with the women sliding at 75-80.

"I am happy with my performance, pushing well with driver Jamia Jackson, and earning my spot on the 2009-2010 World Cup team," said Marcum. "I am really looking forward to an exciting season ahead!"

Marcum is having a banner year: besides making the Bobsled World Cup team and winning the USA Weightlifting National Championship, Marcum - along with Olympic weightlifting gold medalist Matthias Steiner - was part of the IronMind® Invitational at the Arnold, along the way her photo appeared in IRONMAN magazine, and this summer she collaborated with John Brookfield on a Battling Ropes training DVD.