Ingrid Marcum: Highland Games, Here She Comes
Ingrid Marcum has distinguished herself as a weightlifter and bobsledder - then she hooked up with John Brookfield on some Battling Ropes projects, and here's the latest chapter: "I have started on yet another athletic adventure . . . I have started learning the Highland Games events!," Marcum told IronMind a few weeks ago, and this past weekend she entered her first Highland Games competition, The Last Fling in Naperville, Illinois.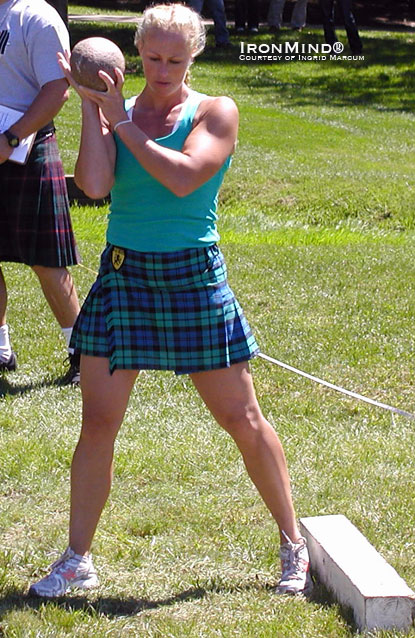 Ingrid Marcum doesn't have a throwing background, but she's proven her ability to generate plenty of power as a successful Olympic-style weightlifter and bob sledder. IronMind® | Photo courtesy of Ingrid Marcum.


"I am currently still working on rehabbing my hips - I just can't do anything lower than a 1/4 squat position right now without pain," Marcum told IronMind.

"I've been dealing with the issue for 5 years—it was time to finally really do something about it. So unfortunately, weightlifting is on hold but I hope to be ready for 2011 nationals. Bobsled is also on hold—I want to wait until I am able to train again at - or at least closer to - 100%. So in the meantime, I am learning the Highland Games. Nothing real heavy and I can avoid those deep positions and have some fun."

This was no idle chatter as Marcum jumped into her first Highland Games competition last weekend and had a blast:


"I am really enjoying my new adventure and can't wait for more! My best events this [past] weekend were heavy hammer (61'), heavy weight for distance (33' 6") and light weight for distance (62' 3"). I have lots of potential in sheaf and weight over the bar, I just need more practice actually throwing OVER something :). Completely loved the experience and can't wait for the next one and to learn more about technique!"

###


Want to talk strength? Join the IronMind Forum!

You can also follow IronMind on Twitter.