Ilya Ilin Takes the 85-kg Crown in Grand Style
Doha, Qatar - If there was a feeling that the women were stealing the show at the World Weightlifting Championships, that ended tonight when the 85-kg men put on a dazzling show.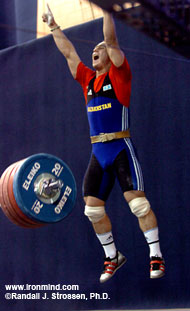 Ilya Ilin celebrates his 216-kg jerk, good for two gold medals and two world records. IronMind® | Randall J. Strossen, Ph.D. photo.

Things started to heat up before the A session even began because after everyone else was done snatching in the B session, Andrei Rybakov (Belarus) opened with a beautiful 180-kg lift. For his second attempt, he took 183 kg, for another success, and a new senior world record. Calling for 185 kg on his third attempt, he once again blasted the weight overhead, for another world record. But don't think that was the end of the excitement because it only served to set the stage for what was to follow.

The A session was loaded with talent: Valeriu Calancea (Romania), Oleg Perepetchenov (Russia), Yuan Aijun (China), Ilya Ilin (Kazakhstan), and Lu Yong (China). Also, balancing the two top juniors, Ilin and Lu, 35-year-old Aslambek Ediev (Russia) was in the field, to give you an idea of the range of talent in this category.

Nobody in the A session threatened Rybakov's freshly-set world record, but Perepetchenov ran out three good snatches to end up with 175 and the silver medal, on bodyweight, edging out, in order, Vyacheslav Yershov (Kazakhstan) and Lu.

Lu had wasted no time showing that he was here for real, as after he had put three good snatches on the board, he opened with 200 kg in the clean and jerk, which broke the junior world record in the total, erasing Ilin's record.

205 kg was a pivotal weight: Yuan had a successful opener with it, as did Ilin, and then Perepetchenov missed the jerk with it on his first attempt. Lu made a very nice lift with 205 on his second attempt to break the junior world record in the total again, and Perepetchenov cleaned the weight strongly and punched it overhead for a never-in-doubt success.

Ediev made a very good lift with 207 kg on his second attempt and then Tigran Martirosyan (Armenia), Calanacea and Martirosyan (again) all missed the jerk with this weight, before Calancea came back on his third attempt and made a nice lift with it.

Lu was on a roll and after having made five good lifts, he took 210 kg for his third clean and jerk - it would put him in first in the jerk and in the total, and, yes, it would break the junior world record in the total yet again. Once again, he made a very nice lift.

Ilin had been biding his time, but with Lu done, he went to work and he took 211 on his second attempt, with first place in the jerk, second place in the total and a junior world record in the jerk waiting for him if he were successful, and he made a terrific lift. Ediev, who is 18 years older than Ilin, made a very nice lift with the same 211 on his third attempt, and now it was time for Yuan to rejoin the battle.

Yuan called for 212 kg, good enough for first in the jerk and the total, but missed the jerk - he uses an extremely wide grip in the jerk, so wide that if you saw the bar overhead, you would probably think he had snatched it. Perepetchenov was following the same script on his third attempt: same weight, same carrots dangling in front of him, but he, too, missed the jerk. Yuan repeated with 212 on his third attempt: he hauled in the weight, stood up, but once again he missed the jerk.

There was one attempt left and it belonged to Ilin, who made the gutsy call for 216 kg, which would give him first in the jerk and total, as well as the junior world record in the jerk and the total. Earlier this year, Ilin had won the Junior World Championships in dazzling style, and tonight at the Senior World Championships, he showed he same great stuff - he made a tremendous lift and the Kazakhstan delegation must have been primed for this victory because they burst into a tremendous celebration as their 17-year-old star had just become world champion, again.