Santo Domingo - Forget any lines you know about masters of their craft or even old age and treachery, because Ilya Ilin's (Kazakhstan) victory in the 94-kg category at the World Weightlifting Championships today was a triumph for youth.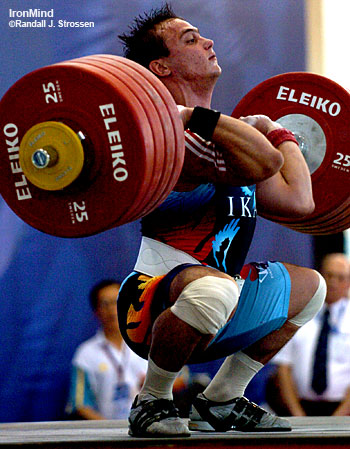 94-kg winner Ilya Ilin and 233 kg meet up at the World Weightlifting Championships. IronMind® | Randall J. Strossen, Ph.D. photo.
Alice Cooper knew it: Being 18 is special and tonight Ilya Ilin repeated as a senior world champion, even though he is only 18.

This class was expected to please no matter what the final outcome because along with the defending Olympic champion (Milen Dobrev, Bulgaria), it included the world record holder in the clean and jerk (Szymon Kolecki, Poland), and the reigning junior and senior world champion (Ilya Ilin). From the start, things did not go well for Milen Dobrev, though - a couple of days ago, he had told IronMind® that he still had knee and back problems, and unfortunately, the snatch was not kind to him, as he bombed out with 170 kg. The snatch did Syzmon Kolecki no favors either, as he went to one knee trying to save his opener (173), came back to make it and then missed 176. Ilin made 170 and 175, before missing 177, so with these numbers, maybe it shouldn't be surprising that the gold and silver medal in the snatch went to two Russian B session lifters (Roman Konstantinov and Mukhama Sozaev, respectively).

In this class especially, and even more so with Dobrev out, the final results seemed likely to come down to the clean and jerk, and both Ilin and Kolecki are real long ball hitters. Kolecki opened with 214, rushed the jerk, sent it forward and the bar quickly crashed down - at this point, Kolecki would have seemed to have lost the chance to beat Ilin, who came out and smoked 217 on his opener, for first place position in the jerk and the total, but things were not quite over yet.

Kolecki went to 219 on his second attempt, looking for the gold in the jerk and the silver in the total, but he could not stand up with the weight. On his third attempt, he struggled up and punched the jerk overhead, roaring in great satisfaction as he held the bar overhead.

He already had the gold medal in the total, but Ilya Ilin was eyeing a big target and he called for 233 kg, in a bid to break Kolecki's world record in the clean and jerk. Twice he got under it, but twice he could not stand up with it up.

Want to bet how long that will last?